WhatsApp, as the most used Instant Messaging app, is undoubtedly a platform where important messages are shared, including chats with our loved ones, contractual terms agreed online, academic papers, etc.
Therefore, there might be a need to print some sections or a complete chat history either to be sent as a gift or to be tendered as legal evidence. This has made it paramount to know how to print your WhatsApp messages.
In this article, we shall discuss 3 effective ways to help print WhatsApp chat effortlessly, irrespective of your phone type or the number of messages you want to print. So, let's begin!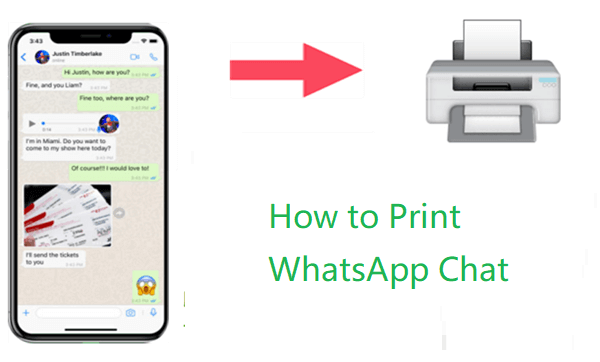 Part 1. Print WhatsApp Chat in 3 Ways [Android & iOS Supported]
Among the 3 ways to print WhatsApp chat, some may only support a text file, while some can print both messages and photos - just select one that suits you.
Way 1: Print WhatsApp Messages by Email Exportation
This method involves exporting your WhatsApp chat via email and subsequently printing it on your PC. It is quite straightforward, below is a quick rundown:
Step 1 Open WhatsApp on your device and tap on the conversation you want to print.
Step 2 On iPhone, tap the contact name and select the Export Chat option.
On Android, tap the three vertical dots on the top right corner, then tap More > Export Chat.
Step 3 Choose whether to add media files or not when prompted. Then select the email icon from the list of icons displayed. Now, enter your email as the recipient email and hit the Send button.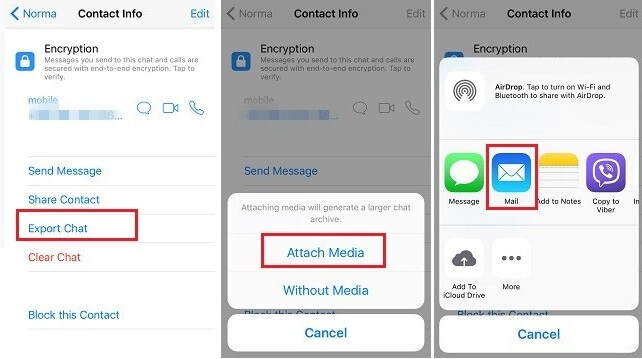 Step 4 Open the email on your PC and download the chats sent to your inbox as .txt. Then, open the file with Notepad or any text editor.
Step 5 The chats will be opened as a log file and not how it appears on your phone. Press Ctrl + P to start printing WhatsApp conversations.
Pros
Simple and direct.

Works well for all devices.
Cons
Can only export one chat at a time. Hence, if you need to print messages from multiple chats, you must repeat the steps above.

Can only export 40,000 messages at once without media files and 10,000 with media files.

It is time-consuming.

Cannot print chats as it appears on phone.
Way 2: Print Screenshot of WhatsApp Messages
This method is effective if you are looking to print chats with only a few messages or a small section of a lengthy chat. It involves taking a screenshot of the messages and then printing them either on your mobile device or PC.
Step 1 Open the WhatsApp chat containing the messages you want to print, then find the exact messages you need.
Step 2 Take a Screenshot of the WhatsApp chat
On iPhone with Home button: press the home button and the side button simultaneously and then quickly release them.
On iPhone without Home button: press the side button and the Volume Up button at the same time then release.
On most Androids, press the Power button and the Volume down button simultaneously to take a screenshot.
Step 3 For a better printing experience, send the images to your computer and open them with an image editor. Now, you can print after making any modifications you want to the image.
Pros
Straightforward and fast.

Makes it easy to print a specific area of a conversation.
Cons
Takes a lot of time when you need to take more than one or two screenshots.

It requires you to arrange images manually to print them chronologically.

You can't eliminate unwanted messages within the chat or miscellaneous screen data when you want to print.
Way 3: Export and Print WhatsApp Chat in One Click
As you can see, each method above has several disadvantages, especially when you need to print lots of messages from different contacts. So this method involves using an effective third-party tool to print WhatsApp chat quickly.
Unlike the other two methods, the WooTechy WhatsMover software allows you to print multiple chats without limitations. It can export more than 40,000 WhatsApp messages at once and then print your chats as Excel, PDF ot HTML page.
Apart from printing WhatsApp messages, WhatsMover can also
100.000+
Downloads
Transfer WhatsApp/WA business between iPhone and Android devices directly.

Take a complete backup of your WhatsApp data on computer for FREE, no storage limit.

Restore WhatsApp backup to either an iPhone or Android.
All these are done with little input from you. It is just the complete package for every WhatsApp task you want to carry out.
Print WhatsApp Conversations at once with WhatsMover
Below are the steps to follow to take print from WhatsApp after downloading and installing the WhatsMover software on your PC or Mac.
Launch the WhatsMover software and connect your device (iPhone or Android) to your PC with a USB cable.
Click the Back Up WhatsApp on Devices tab on the left plane followed by the Back Up button to backup your WhatsApp data.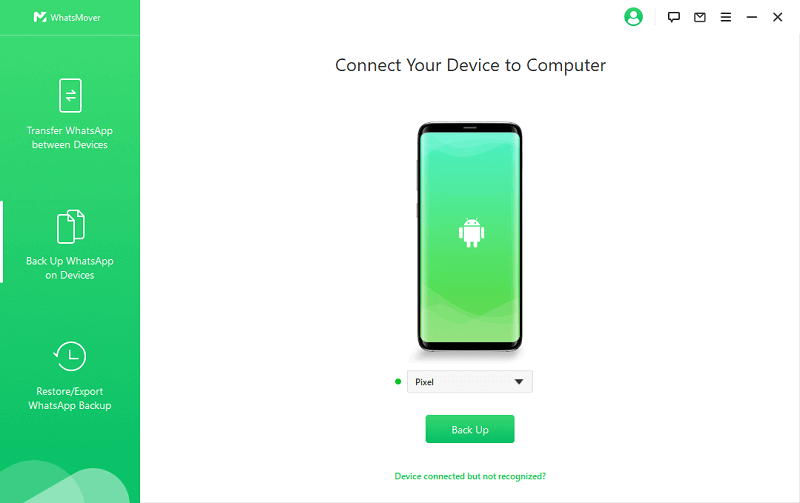 Click the Restore/Export WhatsApp Backup tab on the left and choose the backup you took, then click the Export to Computer button. This will start scanning the backup file.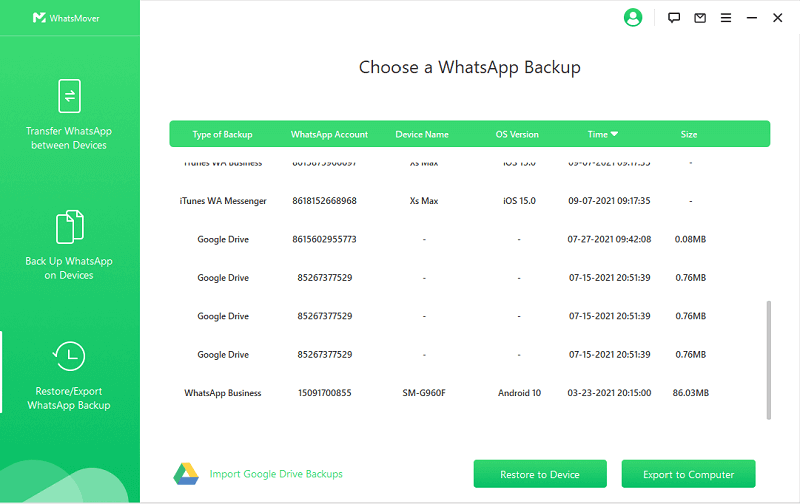 After completing the scan, you can preview and select the files you want to export for printing. Finally, choose either CSV/XLS, PDF, or HTML format, depending on your preferences and click Export.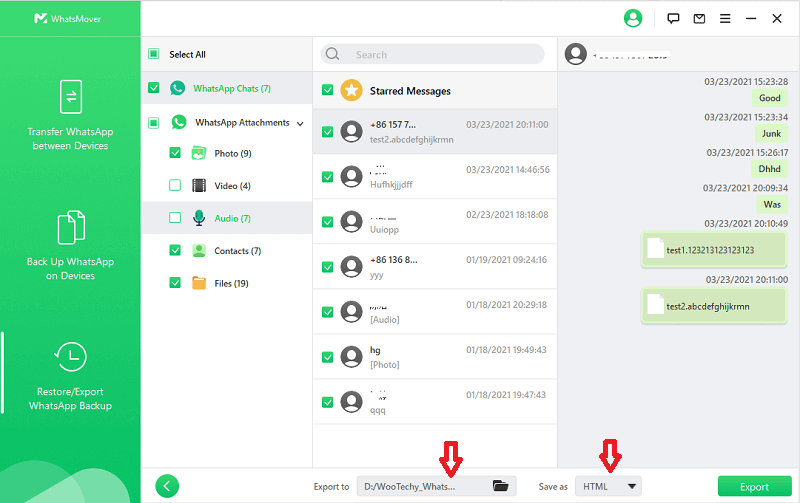 Lastly, open the exported file and press Ctrl + P to print.
Part 2. Can I Print WhatsApp Chat as it Appears on the phone?
Yes, you can do that with the WhatsMover software introduced above. The major tweak is to choose to export WhatsApp chat to HTML format, which will display it as it appears on your mobile device.
When the exportation is done, WhatsMover automatically opens the folder of the exported files. Just press Ctrl + P keys and that's it!
Final Words
Knowing how to print WhatsApp chat is not an everyday task and, as such, can sometimes be confusing to users. However, in this article, we have discussed three different methods to print your chats on either iPhone or Android.
And if you want to print numerous messages or print WhatsApp chat as it appears on your phone, WhatsMover WhatsApp Transfer is without doubt the most effective method you can employ by exporting the chat to HTML format. Don't hesitate to have a try!