Whether you've got a new phone or just want to transfer your WhatsApp from iOS to Android or vice versa, the main issue that arises is the difference in OS.
You see, transferring from iPhone to iPhone or Android to Android is a breeze! But when you have to transfer WhatsApp between smartphones with a different OS, like from an iPhone to, let's say, OnePlus, compatibility issues may cause hindrances.
However, even though direct transfers are not possible, there are alternative ways to get the job done!
This article will discuss how to transfer WhatsApp data from iPhone to OnePlus in 4 different ways.
Part 1. Can You Transfer Data From iPhone to OnePlus?
Transferring data directly from an iPhone to OnePlus is not possible because one is iOS and the other is Android. And, even if you create a backup of your conversations on iCloud, there's no method to directly transfer the backup from iCloud to Google Drive.
However, there are several other ways in which you can transfer data with ease and without the risk of losing it with the help of third-party apps.
So, let's look at how you can transfer WhatsApp from iPhone to OnePlus.
Part 2. How Do You Transfer WhatsApp from iPhone to One Plus 9 Pro?
Following is a step-by-step guide on how to transfer WhatsApp from iPhone to One Plus in 4 different ways:
1

Via Mail

You can transfer WhatsApp from iPhone to One Plus for free via Mail. This method is free, easy, and does not require the use of any third-party app or transfer via USB. You can easily email your WhatsApp conversation from your iPhone in the form of a zip attachment and access it from your OnePlus.

Here's how:

Open WhatsApp and then the chat you want to transfer on your iPhone.

Click on the 3 dots on the top-right of the conversation and select More > Export Chat.

You will be given the option to attach the media or not. Select the option you prefer.

Now, click on Mail when asked how you want to export.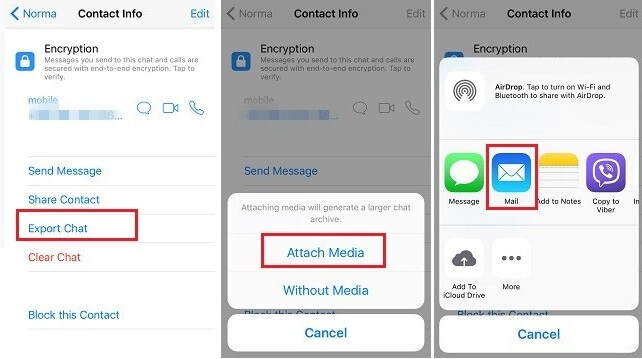 Once the files have been attached, enter your email address and click Send. A zip file will be sent to your email address.
Open the email from your OnePlus, download the zip file, and extract the conversation to your device.
Pros
You can send the contents of an entire conversation as a zip attachment.

It does not require any third-party app.
Cons
You can send only one conversation at a time making it quite time-consuming.

The chat won't be restored to WhatsApp, but will only be available as an extracted zip file.
2

Via Backup and Restore

However, there are some other more convenient ways than sending via email. First take a backup of your iPhone WhatsApp, then restore the backups to your OnePlus. But due to the different OS, you can restore your iCloud backup to Android. Therefore, you will need a third-party WhatsApp backup and restore tool to do it. Here's how:

On your PC, download and launch WooTechy WhatsMover. Connect your iPhone and click Back Up WhatsApp on Devices. Complete the backup process by clicking Back Up.

After that, disconnect your iPhone and connect your OnePlus to the computer via a lightning cable.

Click Restore/Export WhatsApp Backup on WhatsMover and all of your WhatsApp backups will be displayed.

Click Restore to Device and wait until it is complete. Finally your WhatsApp data will be transferred to your OnePlus.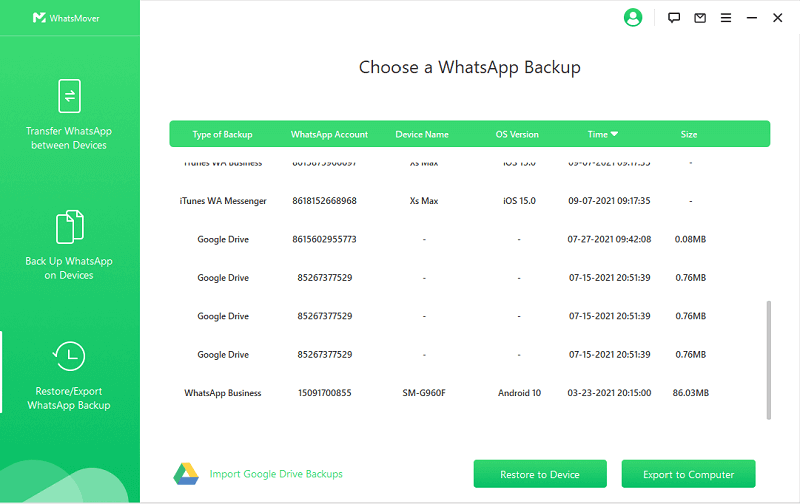 Pros
No need to worry data loss after backing up data.
Cons
The transfer process is indirect.
3

Via WhatsApp Transfer Software

If you think the above 2 methods are difficult and time-consuming, you can use WooTechy WhatsMover to directly transfer WhatsApp from iPhone to OnePlus. It's a foolproof way that ensures security and a 100% success rate.
WhatsMover – The Most Powerful WhatsApp Transfer Tool
100.000+
Downloads
Directly transfer WhatsApp between iPhone and Android devices.

Support all brands of Android phones like Samsung, LG, Huawei, Motorola and Xiaomi.

Support all types of WhatsApp data including chat history, photos, videos, contacts, and other attachments during transferring.

Secure and safe to use, WhatsMover protects all files and ensures your data privacy.
Here's how to use WhatsMover to transfer WhatsApp from iPhone to OnePlus:
Launch WooTechy WhatsMover on your PC and connect both your iPhone and OnePlus to it. Now, choose the Transfer WhatsApp Between Devices option and click on Transfer.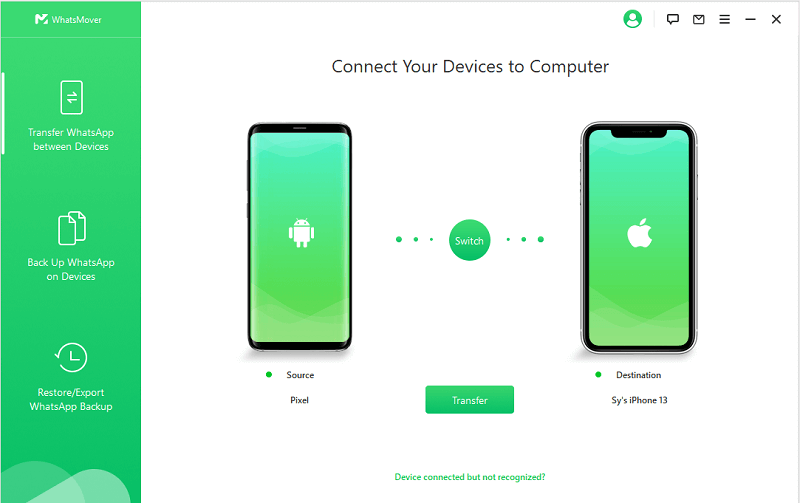 Once both the devices have been recognized, you will be prompted to choose your WhatsApp type: WhatsApp Messenger or WhatsApp Business. After this, the WhatsApp transfer process with begin.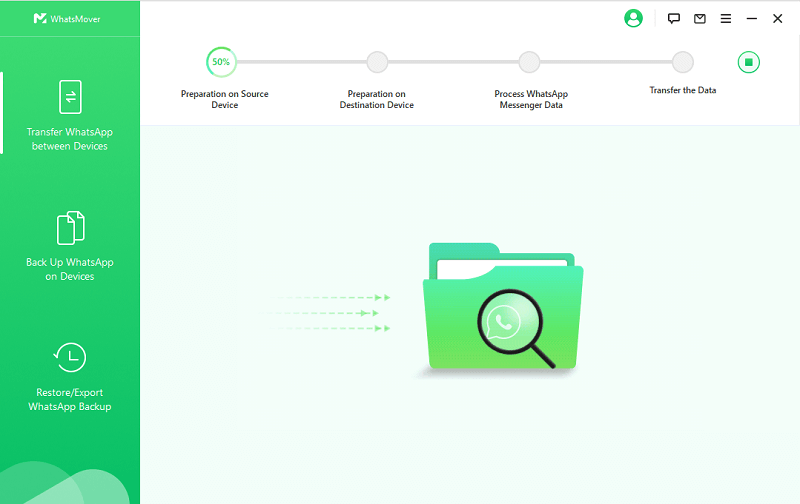 It might take a few minutes for the transfer to complete depending on the amount of data you want to transfer. However, once it is finished, all your WhatsApp data will be transferred to OnePlus successfully. Click Done to complete the process.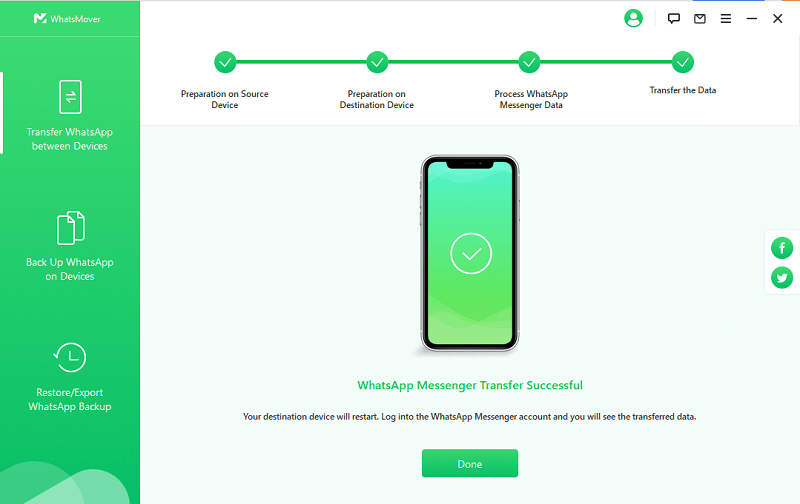 Therefore, in just 3 simple steps, you have successfully transferred your WhatsApp data from iPhone to OnePlus without losing any information.
Pros
It is an affordable, secure, and foolproof way to transfer WhatsApp between devices.

It supports all Android and iPhone models.

It is a time-effective method of transferring WhatsApp.
Cons
4

Via WazzapMigrator

Another way to successfully transfer your WhatsApp from iPhone to OnePlus is through WazzapMigrator. It's an Android-based app that helps restore your WhatsApp chats from iPhone to Android.

Here are the steps for it:

Create a WhatsApp backup from your iPhone on your computer using iTunes.

Now, install and launch WazzapMigrator Extractor on your PC.

Open the WhatsApp backup you created earlier on WazzapMigrator, extract the files, and download them on your computer.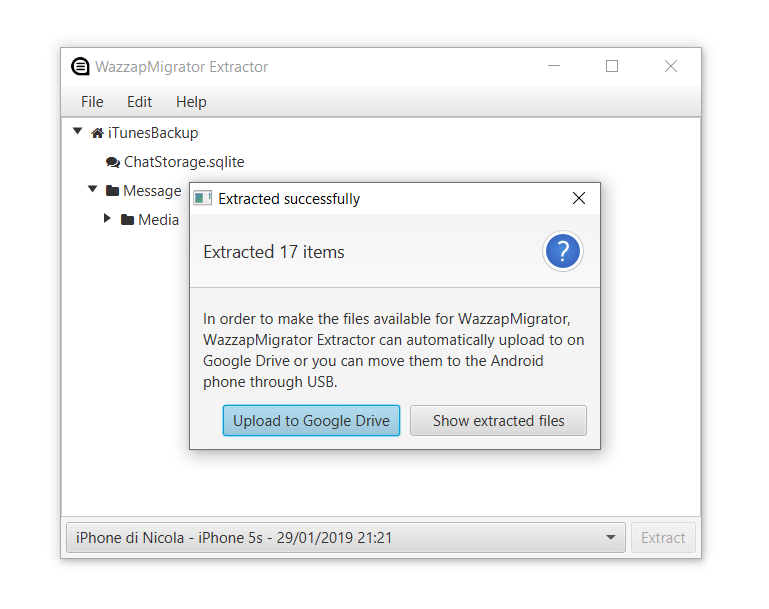 Next, connect your OnePlus to your PC via USB cable and transfer the extracted files to your device's storage.
Download the WazzapMigrator app on your OnePlus.
Launch the app and open the extracted files you transferred via USB cable. The app will extract the data from those files and restore them to your WhatsApp on OnePlus.
Pros
It is possible method of transferring WhatsApp between devices.
Cons
It's time-consuming.

The steps are a little complicated.

Some errors will happen during the process.
Conclusion
When you switch from an iPhone to OnePlus, the main concern is the transfer of WhatsApp conversations. As there is no official way to transfer WhatsApp between the two devices directly, you have to opt for alternate ways to do so.
We have listed down 4 ways to transfer WhatsApp from iPhone to OnePlus; however, some methods are too complex, while others are time-consuming with no surety of success. Therefore, the only method that works well without the risk of losing your data or taking too much time is using WooTechy WhatsMover.
So, download this amazing tool and make all your backup and transfer issues a thing of the past!