Move to iOS, specifically designed by Apple, is aimed to transfer data from Android to iPhone quickly, including contacts, message history, calendars, and the all-important WhatsApp chats.
This seems to be a great helper when people switch from an Android phone to an iPhone, right? However, despite being billed as an "easy-to-use" app by Apple on Google Play Store, users have been complaining about Move to iOS not connecting or working.
If you are also stuck with the Move to iOS not working issue, just read on as this article has gathered 7 practical ways to solve this problem quickly. Enjoy!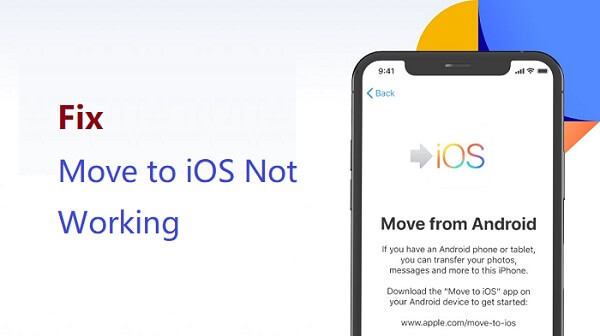 Why Is Move to iOS Not Working?
Move to iOS is an Android app with no companion app on iOS to pair. This, plus the fact that it carries out the data transfer over a Wi-Fi network, leaves many possible causes as to why it fails at times.
The following are the most common reasons why the Move to iOS not working problem occurs:
1. Android phone is running an OS below Android 4.0.
2. iOS device is running an OS below iOS 9.0.
3. Your Android and iPhone are connected to different Wi-Fi networks.
4. Storage space is not adequate on the receiving device (iPhone).
5. The working process of the Move to iOS app is interrupted or disrupted on the Android phone by another task (e.g., phone call) at the time of transfer.
7 Ways to Fix Move to iOS Not Working/Connecting Issue
As frustrating as the Move to iOS not working issue can be, you don't have to worry too much. Below are some quick fixes you can apply if the Move to iOS app is unable to migrate your data.
1. Restart both Android and iPhone
It should come as no surprise that the first fix on this list is as simple as "restarting" both devices involved in the data transfer. As simple as it is, it has been reported to be very effective, especially when Move to iOS could not communicate with the devices or is not connecting at all.
This is because once you restart both devices, any failing and busy processes causing glitches will be closed and returned to normal. Therefore, before proceeding to the other fixes, restart your iPhone and Android, and retry the transfer.
2. Check Internet Connection on Both Devices
As stated earlier, one of the causes for Move to iOS not working is the failure to connect the Android and iPhone to the same Wi-Fi. Besides, this app relies on a stable network connection to transfer data.
To confirm this, go to Settings on both devices to ensure they are connected to the same network. You may also forget all current networks and reconnect.
3. Put Your Phone into Flight Mode
Sometimes, your mobile network might be interfering with your Wi-Fi connection, causing Move to iOS transfer to be interrupted. In this case, you need to put both the iOS and Android devices in flight mode throughout the transfer process.
On Android, pull down the notification plane from the top of the screen and tap the Airplane icon to activate flight mode.
For iPhone users, swipe up on your phone screen to launch the control center and tap the Airplane icon to put your device in flight mode. Or you can go to Settings and turn on Airplane Mode.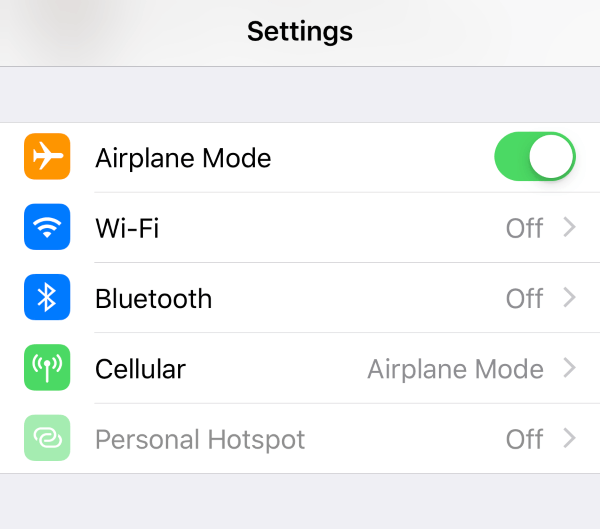 4. Check the Device Compatibility
Before you attempt data transfer with the Move to iOS app, you should check if your Android and iPhone meet the minimum requirements to use the app.
An Android device must be running Android 4.0 or higher, while an iPhone must be running iOS 9.0 or higher to successfully transfer data with the Move to iOS app. If any of the devices does not meet this requirement, you can't use this app for your data transfer.
For iPhone users, go to Settings > General > About to confirm your iOS version.
For Android users, taking Samsung as an example, go to Settings > About phone > Software information, and you will see your phone's factory data, including the Android version.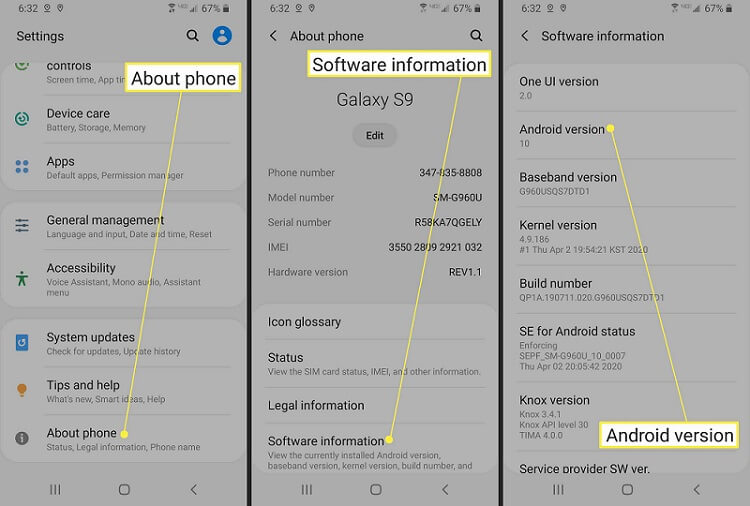 5. Disable Connections Optimizer
Connections optimizer is a feature in some Android 8.0 devices and higher. This feature is integrated to automatically switch between Wi-Fi and mobile data for improved user experience. This is especially useful when you don't have a stable Wi-Fi or mobile network.
However, it is problematic when using the Move to iOS app, which can only work with Wi-Fi. Hence, it is essential to disable this feature before connecting the two devices to prevent data transfer interruption.
Go to Settings > Mobile Networks > Connections Optimizer. From here, disable this feature and turn off your mobile network as well. You can now connect the two devices and start the data transfer.
6. Quit Unnecessary Apps
Apps running in the background might have permissions that negatively affect your Wi-Fi connection. Also, some might make use of a large portion of your Android RAM, which can also affect the performance of the Move to iOS.
Hence, it is crucial to close all unnecessary apps to prevent Move to iOS getting stuck on preparing or other errors.
7. Ensure Enough Storage on Your iPhone
As the receiving device, the iPhone must have enough space to accommodate the data to be transferred from Android. Or else, Move to iOS transfer will be interrupted at some point.
If your iPhone is short on storage, you can delete some media files and apps to create space. Also, you can reduce the size of the data to transfer from your Android to match the space available on the iPhone. Just make sure your iPhone has enough space plus a little extra to accommodate the incoming data.
Best Alternative to Transfer WhatsApp from Android to iPhone
The Move to iOS is truly not a qualified app to transfer data, which is evident in its low customer ratings of 2.9. With this, it is necessary to have an alternative if your primary objective is to move WhatsApp from your Android to iPhone. And there is no better software for the job than WooTechy WhatsMover.
WhatsMover WhatsApp transfer is a user-friendly tool built to quickly transfer all WhatsApp data from Android to iPhone and vice versa. Be it chat history, photos, contacts, and documents, WhatsMover can transfer all these data to your new device safely.
It does not have any OS version or device model limitations and, as such, can be used by virtually all users.
Great Feature of WooTechy WhatsMover
100.000+
Downloads
Transfer WhatsApp/WA Business between iPhone and Android directly.

Back up WhatsApp to PC for free with unlimited storage space.

Restore WhatsApp backups to either iPhone or Android without uninstalling.

100% safe and easy to use.
How to Transfer WhatsApp from Android to iPhone Using WhatsMover
Below are the three quick steps to follow to transfer WhatsApp from Android to iPhone with the WhatsMover software.
Step 1 After installing WooTechy WhatsMover on your PC, launch the software and connect the two devices to the PC via USB cables.
Step 2 Click on the Transfer WhatsApp between Devices option on the left plane followed by the Transfer button.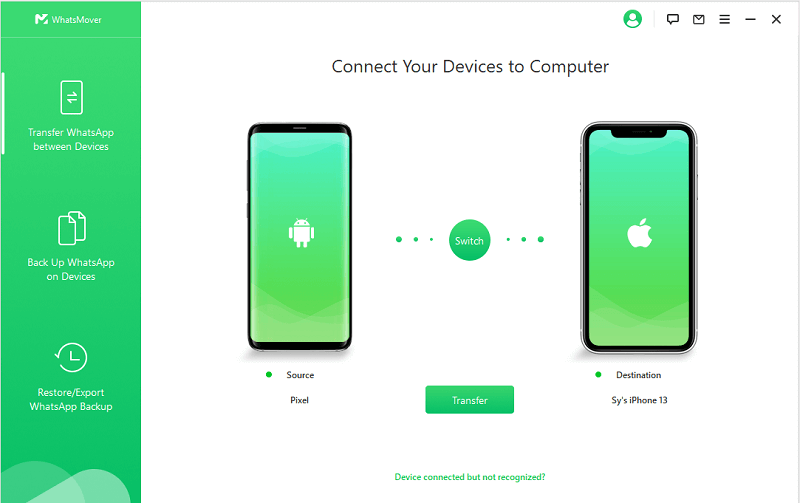 Step 3 Choose to transfer WhatsApp or WhatsApp Business, and the transfer will start immediately. Wait for the process to complete and click Done to finish.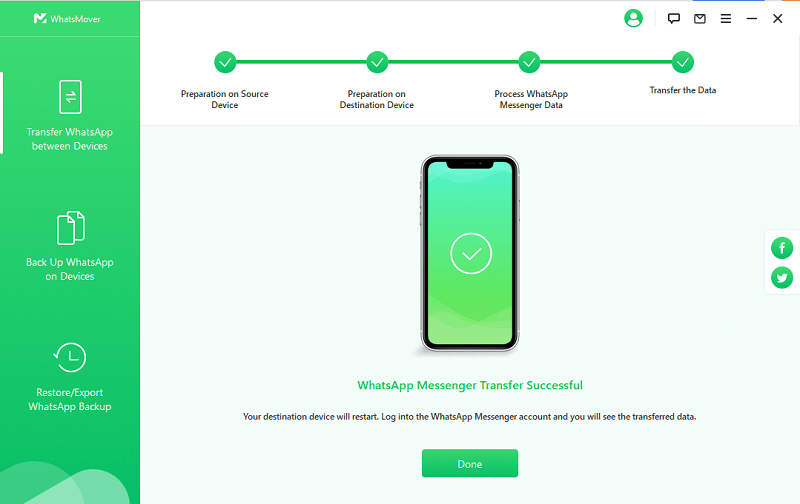 And voila! WhatsApp data is transferred without fuss.
Final Words
Being the official Apple app for data transfer from Android to iPhone, the Move to iOS is one of the most popular data transfer apps. However, users have been facing Move to iOS not working or not connecting issues rather frequently.
We have proffered 7 quick and proven fixes in this article to help you solve this problem. Also, we recommended the WhatsMover software as an alternative to the Move to iOS app if you want a more effective and quick way for WhatsApp data transfer.