Switching phones can be quite a hassle with all the data transferring you need. Having to restore WhatsApp backups is another odd chore. If you switch from an iPhone to an Android, you might be surprised that none of your chat histories are there. Today we'll be looking into how to restore WhatsApp from iCloud to Android.
Because you will be switching from iOS to Android, the process is not as straightforward as you might expect. The two operating systems have different ways of backing up data. We will be looking into the step-by-step process of the entire procedure, so your Whatsapp will be back to just how you want it to be in no time!
Part 1. Prerequisite to Restore WhatsApp from iCloud to Android
If you wish to restore your WhatsApp backup from iCloud to Android, you must first ensure you have the data backup restored to your iPhone.
Check If iCloud Drive Is Enabled

Go to settings, and at the top, you should see either your name or an option to sign in. Tap your name, and it will take you to a list of menus. From there, look for iCloud.

From that "iCloud" menu, you can proceed to turn iCloud Drive on.

Back-Up WhatsApp to iCloud

From your home screen, go to the WhatsApp app. Then on the bottom bar, you will see the different tabs. The right-most menu is the Settings; it has the classic cogwheel logo. In the settings menu, you will see all the settings related to all the different aspects of the app.

There's a menu item there called Chats. Tap that option, and find the Chat Backup option there. Inside that, you will see both Auto Backup and Back Up Now. You can even select to exclude file types like videos or images from the backup.

At timed intervals, auto backup backs up your WhatsApp chat. It is preferrable to have this turned on. However, we'll use Back Up Now to create the most up-to-date backup. If you have a new iPhone or performed a full reset to fix things, you can skip directly to the next step.

Restore Whatsapp Backup to Your iPhone

After making sure the iCloud backup is ready, let's restore WhatsApp backup from iCloud to your iPhone. You would want to do a clean reinstall of WhatsApp to ensure it works perfectly.

After that, you will get a prompt that a backup has been found. Restore that backup. It won't take long. And your WhatsApp data is now restored to your iPhone.

Once you prepare the backup on your iPhone, you can transfer your data to Android. There are three steps to this process, and we have explained them all below.
Part 2. How to Restore WhatsApp from iCloud to Android
Now that your backup is restored on your iPhone, we can look at how to restore WhatsApp chat from iCloud to Android.
Method 1: Restore WhatsApp from iCloud to Android Directly with WooTechy WhatsMover
After your WhatsApp iCloud backup is successfully restored to your iPhone, then the simplest way to restore WhatsApp from iCloud to Android is to use WooTechy WhatsMover to directly transfer it to your Android device. It can do it in 3 simple steps!
Step 1: Connect Both Devices
You will first need to launch the WhatsMover software on your computer. Then select the Transfer Whatsapp Between Devices tab. You will need both the iPhone and the Android phone connected to your computer.
Ensure the source is set to the iPhone and the destination is set to the Android phone. Also, make sure your android device has USB debugging turned on from the developer options. Allow the computer to be trusted on your phone when the prompt appears.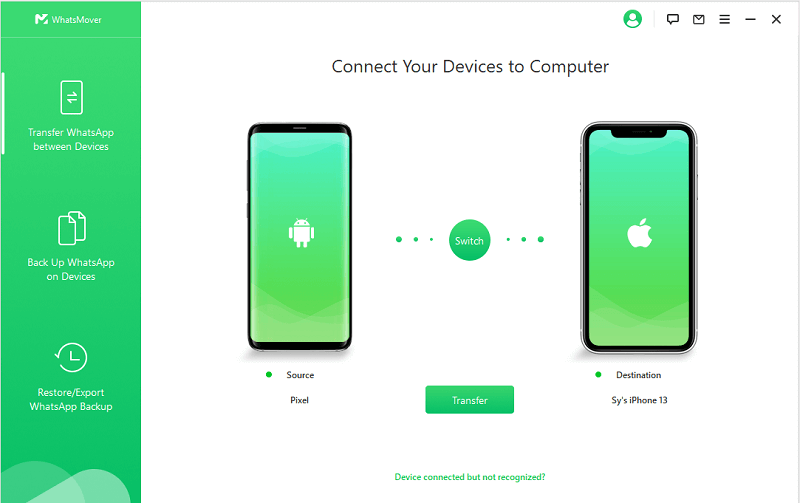 Step 2: Select Transfer Type
After both devices are recognized, you may press the Transfer button. WhatsMover will prompt you to select what kind of WhatsApp account you have. It can be either WhatsApp Messenger or WhatsApp Business. Select your account type and start the transfer.
The transfer will now begin. It will install a customized version of WhatsApp on your Android device. This app is harmless and will not compromise your device or data. This is only to gain access to and transfer the backed-up data, as the native version does not support that. You can later continue using WhatsApp as usual.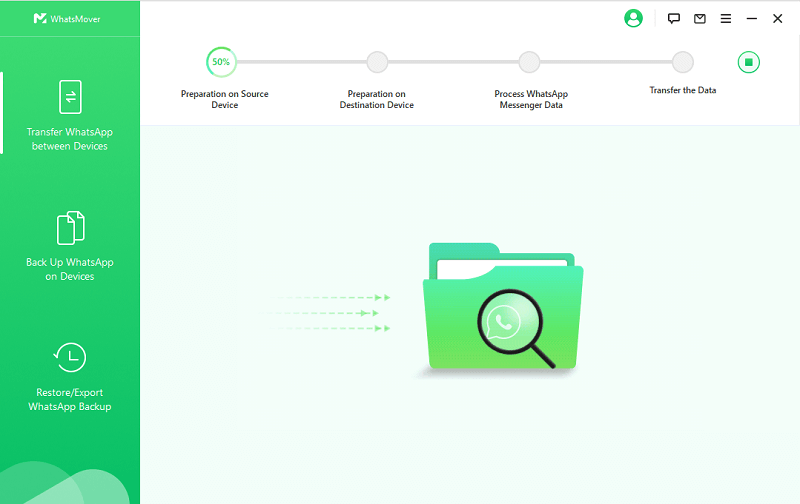 Step 3: Complete the Transfer
After a bit, it will be done with restoring WhatsApp chat from iCloud to Android. You can now back it up to your Google account from the settings on the WhatsApp app on the android phone.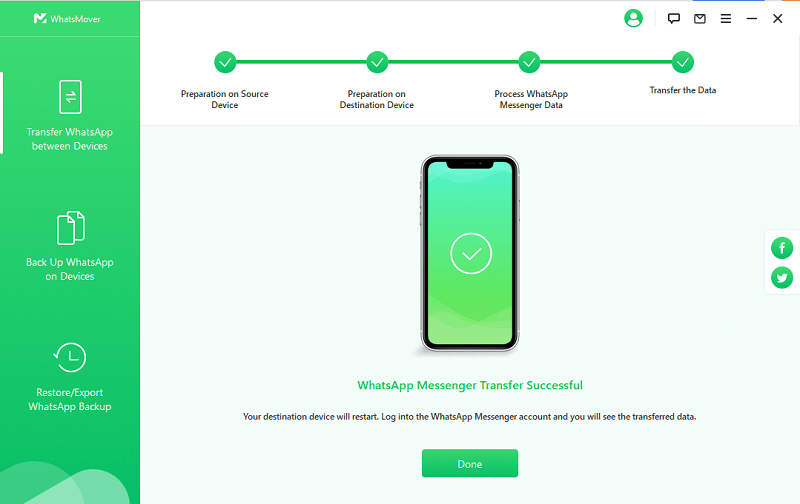 Other Features of WooTechy WhatsMover:
100.000+
Downloads
Transfer your WhatsApp between iPhone and Android without OS restrictions.

Also able to transfer WhatsApp backup from iCloud to Google drive in several clicks.

All iPhone and Android devices are supported including Samsung, LG, Huawei, Motorola, Xiaomi, and more.

All WhatsApp data are included such as chat history, photos, videos, contacts, and other attachments.

Restore your WhatsApp backup to your Phone without limitation.
Method 2: Restore WhatsApp from iCloud to Android with Email
Another way to restore iCloud WhatsApp backup to Android without any kind of software is by email. For this, you want to go to the contact or group chat you want to export. Then tap the name and go to Export Chat. Then you will be able to send a text file via email with or without attachments to your android phone.
At this time, you will see the conversation is attached to your email. Enter your email in the "To" section and click Send button. Now on your Android device, sign in to the email and you can see the messages.
Cons
This method is a fast way to export a specific chat log, but there isn't any way to do this in bulk.

You also won't be able to import it into the app. It will only be a text file, and the media will be separate.
Part 3. Can You Restore WhatsApp from iCloud to Android with an iCloud Account?
Unfortunately, there isn't exactly a way to do this directly from iCloud to Android via your iCloud account. Android and iCloud have different ways of compressing and backing up data, so communication between the two types is not possible. You will have to use one of the above methods to restore your iCloud WhatsApp backup to your Android.
Conclusion
With the help from this guide on how to restore WhatsApp from iCloud to Android, hope you can successfully have your WhatsApp data on your device when you switch to the Android. If you want to achieve that with the highest success rate and with the fastest speed, WooTechy WhatsMover is the best choice you have.