Stickers are an interesting way to express yourself in messages. WhatsApp stickers help users express themselves even more. Although WhatsApp stickers that you install later on remain on your phone, when you switch to a new phone, you may lose your stickers.
That is what we are here to help you with by giving you 4 ways to transfer WhatsApp stickers to a new phone. So, let us dive right into the article.
Part 1. How Do You Transfer Stickers from WhatsApp?
If you are wondering how to restore whatsapp stickers, there are a handful of methods that you can try. We will go over each of these methods in detail and how you can do them regardless of your device.
1

Through Sending to Friends

It is one of the simplest ways of transferring your stickers from your old phone to a new phone. However, you will need a friend to send these stickers first. Furthermore, this method is identical across Android and iOS.

Step 1 Open WhatsApp on your old phone and scroll through your contacts till you find the friend you want to send your stickers to.

Step 2 Send the stickers that you want to transfer to them. After you send them all, we can move to the next step.

Step 3 On your new phone, install WhatsApp; you can do this from the Apple Appstore or Google play store depending on your device.

Step 4 Once installed, open the app, log in, and ask the friend to send all the stickers back to your new phone.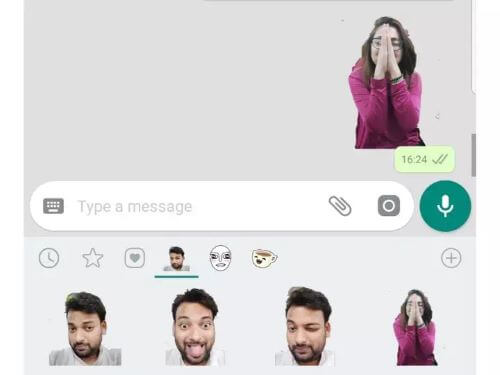 Step 5 Now, by long-pressing the stickers, you will be prompted with the option to add them to your favorites. Thus, you have transferred all your favorite stickers from your old phone to your new one.
2

Through Copy and Paste

Another method you can follow to transfer WhatsApp stickers to new phone on Android is the copy and paste method. If both your old and new phones are Android, you can directly transfer the sticker files between your old and latest phone with the help of a pc. Here's how you do it.

Step 1 Firstly, you need to connect both your old and new Android phones to your pc using a USB cable. Ensure that your pc must transfer access from both the devices.

Step 2 After connecting both devices, click on the old device from This PC.

Step 3 Open Android and scroll down to the media folder. After that, continue scrolling down till you find WhatsApp and open the WhatsApp folder inside.

Step 4 Inside the WhatsApp folder, scroll till you see the media folder and open it. Look for a folder named WhatsApp Stickers, right-click the folder and select a copy.

Step 5 Now that you have copied the folder, go back to This PC and open the new phone. Follow the same path you did earlier until you reach media in the WhatsApp folder and paste the folder from earlier.

And with that, you should have all your WhatsApp stickers on your new device. However, this is only suitable for Android devices, so this method might not apply to iOS users.
3

Through Backup and Restore

Backing up your WhatsApp data is a commonly used method across both iOS and Android devices to restore WhatsApp stickers. WhatsApp lets its users backup their stickers, chats, and data onto either iCloud or Google drive. So, you can later restore your WhatsApp sticker on your new phone.

The method differs between Android and iOS devices. Let us start by looking at how you can back up and restore your WhatsApp stickers on Android devices first.

Step 1 On your old Android device, open WhatsApp and tap on the three dots on the top right of your screen.

Step 2 From the drop-down menu that appears, select Settings, then scroll down to Chats and tap on Chat backup. On this screen, enable Back up to Google Drive and tap the large green BACK UP button.

Step 3 Delete WhatsApp on your old Android phone. Now go to your new phone, install and open WhatsApp using the same number. You should make sure that you log in to the same Google account before proceeding further.

Step 4 Once logged in, WhatsApp should automatically detect if you have any data back up and give you a choice to restore the stored data. You should tap Restore, and your stickers and all your chats from your old device have been transferred to the new phone.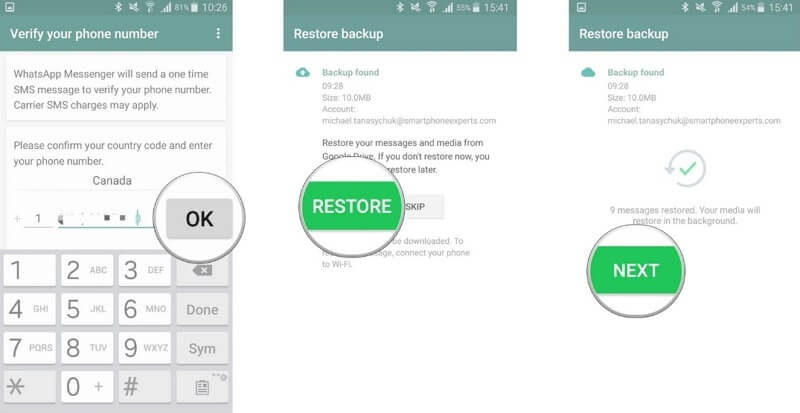 Next, let us see how you can go about restoring and transferring your WhatsApp stickers between iOS devices.
Step 1 Before anything else, ensure that your iCloud backup function is on in your old and new iPhones.
Step 2 Next open WhatsApp on your old iPhone and tap Settings. Scroll down to Chats from the settings menu, click Chat Backup, and tap Back Up Now.
Step 3 Delete WhatsApp on your old iPhone. Now, move to your new iPhone, install and open WhatsApp, and log in with the same phone number as your old iPhone.
Step 4 Like in Android, your WhatsApp will detect if your iCloud has backup data and ask if you want it restored. From here, tap Restore chat history.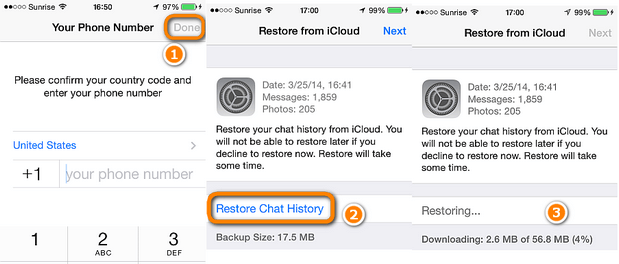 Now you successfully transfer all WhatsApp data including stickers to a new iPhone.
Part 2. Transfer WhatsApp Stickers to New Phone in 1 Click
As you can see, the above 3 ways has device or other limitations. To transfer WhatsApp stickers to a new phone without restrictions, we recommend trying WooTechy WhatsMover. It transfers WhatsApp stickers or any data types between old and new devices. Even between Android and iPhone devices or across the 2 different platforms.
WhatsMover – The Best WhatsApp Stickers Transfer Software
100.000+
Downloads
You can choose to transfer WhatsApp stickers from iPhone to Android, Android to iPhone, Android to Android, iPhone to iPhone, etc.

It allows you to transfer WhatsApp stickers to new phone without reinstalling WhatsApp.

It supports all iPhones and Android devices such as Samsung, LG, Huawei, Motorola and Xiaomi.

Easy-to-use and 100% safe, it ensures your data privacy completely during the transfer process.

It can also back up your WhatsApp stickers and export them easily.
Here are steps to transfer WhatsApp stickers to new phone with WooTechy WhatsMover:
Step 1 Start by launching the WhatsMover application on your PC, and connect both your old and new devices to the PC. Make sure that the destination and source devices are correct on the app. It will decide which device will receive data from which.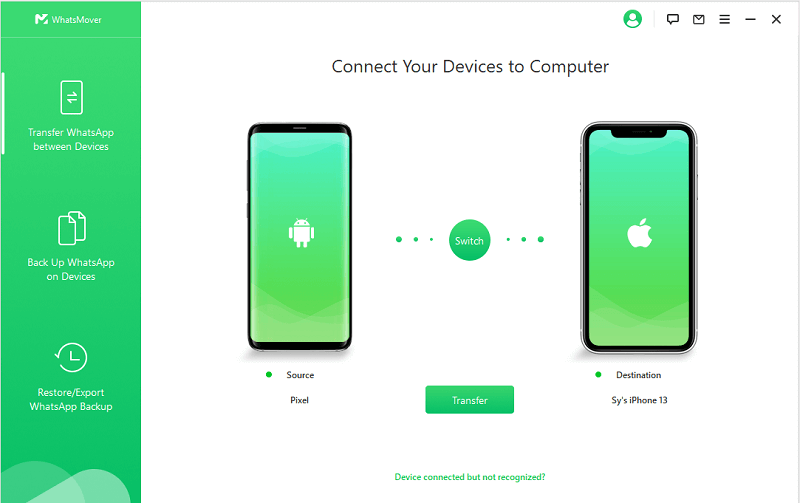 Step 2 After making sure the devices are correctly connected, click Transfer WhatsApp between Devices and Transfer options. Select what type of WhatsApp you want. Select either the Messenger or WhatsApp Business and the transfer process will start. This process will transfer the entirety of your WhatsApp to the other device, including your stickers.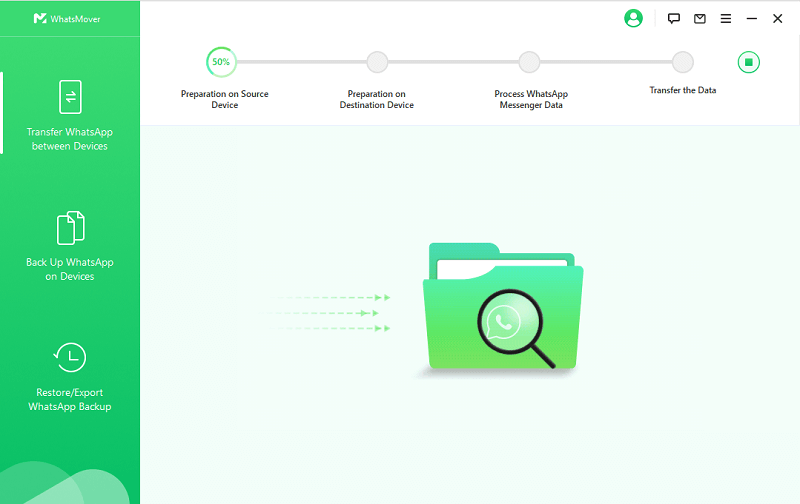 Step 3 Now, all you have to do is wait for the transfer to finish. The time can vary depending on how much data you have to transfer.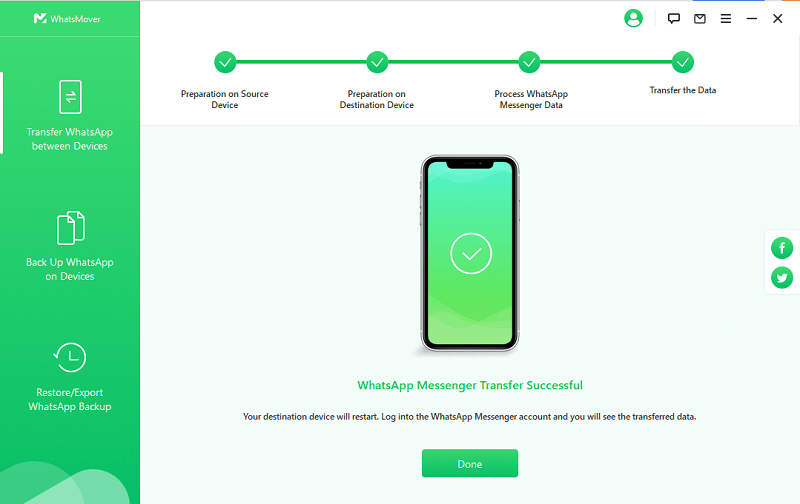 Conclusion
After buying a new phone, a common issue that users may face is transferring WhatsApp stickers to a new phone. We hope this article helped to solve this problem. If you want to transfer WhatsApp stickers with a 100% success rate, WooTechy WhatsMover is your best choice.