Have you lost all your WhatsApp data on your iOS or Android device? If yes, you can restore all your conversations from the WhatsApp backup to your smartphone!
But, there's no option to access the backup files or retrieve data directly from them via computer. However, there are several third-party tools that can help you extract files from your WhatsApp backup.
And in this article, we will discuss 5 such WhatsApp backup extractors to help you access the backup files.
Part 1. Can You Read WhatsApp Messages from Backup File?
The answer is no!
Because while WhatsApp has the option to create a backup of your conversations on Google Drive or iCloud, you cannot read the conversations from the backup as it is end-to-end encrypted. The only way you can go through your WhatsApp files is to restore your conversations from one of the backup files.
However, the good news is that there are some WhatsApp backup readers and extractors that can help you with this issue.
You may require the help of a WhatsApp backup extractor if:
You accidentally delete your WhatsApp conversations.

You restore your device to factory settings.

Your phone is damaged.

Your phone is stolen.
And most importantly,
You want to read your conversations or access files on a computer.
Part 2. 5 Best WhatsApp Backup Extractors
Here are 5 WhatsApp backup extractors to help you view the contents of your WhatsApp backup.
1

WooTechy WhatsMover

WooTechy WhatsMover is a software that helps you with everything related to WhatsApp. From transferring WhatsApp between iOS and Android, backing up your WhatsApp data to your PC, and exporting WhatsApp data in different file formats like HTML, CVS and XLS, this useful tool can also extract various WhatsApp backup files including the Google Drive backup.

It is 100% secure and ensures a high success rate to extract and read your WhatsApp backup files. Use these steps to extract your WhatsApp backup with several clicks.

Step 1 Open WhatsMover and back up your WhatsApp with it first. Then select Restore/Export WhatsApp Backup mode. All of your available backups will be displayed. Select the backup yo'd like to read and view, and click Export to Computer button.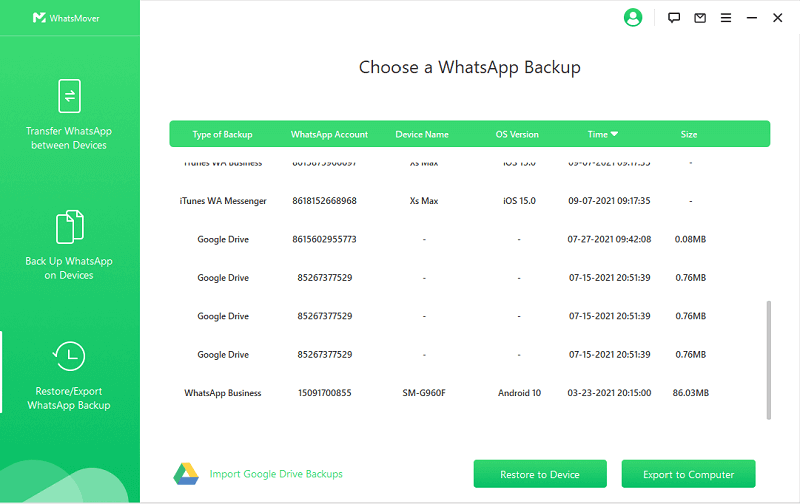 Step 2 It will start to scanning your data, then you can preview the files after all scanned data in the backup. Choose the formats you want to extract the backup as.
If you want to read WhatsApp chats, you can choose the HTML format. While you just need to view them, you can select the CSV or XLS format.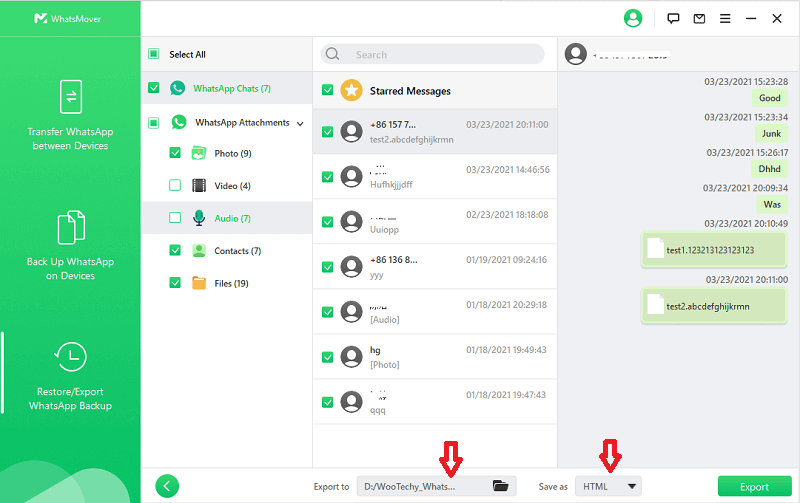 Step 3 Finally select the location and click on the Export button. When the process is complete, your WhatsApp backup is successfully extracted and can be read.
Pros
It supports all iOS and Android devices.

There's no risk of data loss.

There's no storage limitation for WhatsApp backup to PC.

It has a user-friendly interface.

The process is safe, secure and time-saving.
Cons
It does not have a mobile version.
2

WhatsApp Extractor

WhatsApp Extractor is a tool to retrieve files from WhatsApp backup for iPhone on your PC or Mac. It supports all formats and extracts your conversations in HTML format, while contacts in VCF and CSV formats. Media files, on the other hand, can be retrieved in their original formats.

Step 1 Start by selecting a backup then WhatsApp Extractor will show you iPhone information and WhatsApp dada.

Step 2 Finally you can save them in the HTML and other formats to read them.
Pros
It has an intuitive interface that uses a single screen to perform all functions.

It is a pocket-friendly option to retrieve WhatsApp files.
Cons
It only works for iPhone.

It has limited advanced options.
3

BackupTrans

Another professional way to restore your WhatsApp files for Android and iOS devices is Backuptrans. It helps you transfer WhatsApp conversations between devices with different OS, plus it also helps you recover files or conversations that have been deleted from your smartphone. All this without the need of root or jailbreak.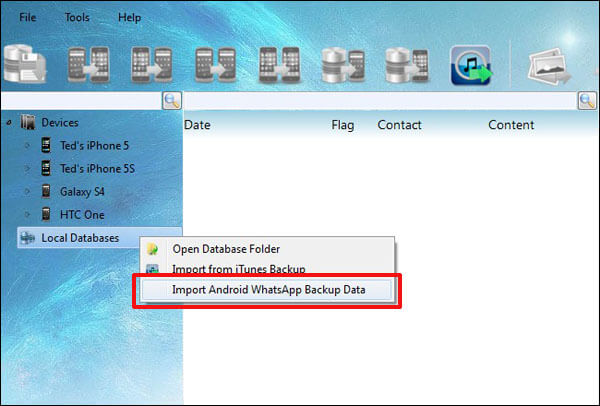 To use BackupTrans to decrypt and read WhatsApp backup:
Step 1 Copy your WhatsApp backup to computer and open BackupTrans. Right click Local Databases and choose Import Android WhatsApp Backup Data.
Step 2 Choose the backup file and click OK. Enter your Android account. Your WhatsApp backup files will be extracted.
Pros
It supports all Android and iPhone models.

It has the option to transfer chats individually.

It supports all popular text formats, including TXT and DOC.
Cons
No free trial version is available.

The interface is a bit confusing, and new users might find it difficult to navigate through it.
4

iMyFone D-Back

If you're looking for other WhatsApp backup extractors for your iPhone or Android, you should give iMyFone D-Back a try. It offers to recover selective WhatsApp conversations and media files from iTunes, iCloud, or any other backup resource you're using. Apart from WhatsApp backup, you can also use it to recover your contacts, call history, notes, Safari history, calendar entries, and any other important info from your phone.

Step 1 Choose the mode on the tool's interface, then select the data type and start scanning.

Step 2 Finally click Recover to get your WhatsApp data. You can preview them before the extracting.
Pros
It has a high success rate and can retrieve files even from broken, inaccessible iPhones.

The user interface is straightforward to use and understand.

It supports almost 22 file formats.

It offers previewing files before recovery.

It has a trial version.
Cons
It take a long time to extract WhatsApp backup from Android at times.

It is pricey.
5

Dr. Fone Data Recovery

Dr. Fone Data Recovery is a tool to recover your data from iPhone and Android. Apart from that, it can also extract WhatsApp backup. It supports many iPhone and Android devices and can recover everything from lost WhatsApp conversations to contacts, messages, media files, etc.

The recovery process is quite simple and straightforward, and with a high success rate, it will retrieve all your WhatsApp data in a safe and secure manner without any data loss.

Step 1 Launch the program and select Data Recovery. Choose WhatsApp & Attachments and click Start Scan.

Step 2 All WhatsApp data will be shown and you just need to click Recover to Computer.
Pros
It has a high success rate and can retrieve files even from broken, inaccessible iPhones.

The interface is easy enough to be used by non-technical users also.

It supports 6000+ Android devices.

It has a separate version for iOS.
Cons
You need to go in developer mode to retrieve Android files.

Sometimes the speed of extracting WhatsApp backups is a little slow.

It is a bit expensive.
Part 3. Comparison Between the 5 WhatsApp Backup Extractors
| Features | WooTechy WhatsMover | WhatsApp Extractor | Backuptrans | iMyFone D-Back | Dr. Fone Data Recovery |
| --- | --- | --- | --- | --- | --- |
| iOS Support | | | | | Separate Version |
| Android Support | | | | Limited | |
| Free Trial | | | | | |
| High Success Rate | | | | | |
| Foolproof Security | | | | | |
| Unlimited Storage for PC Backup | | | | | |
| User-friendly Interface | | | | | |
| Affordable Price | | | | | |
Conclusion
There can be many instances where you lose your WhatsApp data and require a backup to restore it. The most common solution is to restore your WhatsApp conversations from the backup. However, if you're looking to retrieve only selected files, you need to go through the backup and select the items you want o restore.
The bad news is that WhatsApp doesn't have an option that allows you to read or go through the backup files. But, the good news is that several 3rd party apps can help you with this!
We have discussed 5 different WhatsApp backup extractors in this article that you can use to view your backup files' contents and extract the ones you want. And while all the tools are useful, if you're looking for something that has it all, we recommend using WooTechy WhatsMover to tackle all your WhatsApp backup extracting issues.