I've been using WhatsApp on my phone and PC successfully for years. Today WhatsApp Web lost the connection to my phone. I tried to scan the QR code, and my phone just keeps saying "Use the WhatsApp Web scanner to scan this QR code"....
Such is the frequency of the WhatsApp QR code not working problem that you often find people seeking for help on popular forums like Reddit.
Since you are here, I guess you are also facing this frustrating problem and desperately need a solution, right? Be at ease as this article contains quick and easy fixes to the WhatsApp Web QR code not loading issue. Enjoy!
Part 1: How to Scan a WhatsApp QR Code Correctly?
A large proportion of users are facing the WhatsApp Web QR code not loading difficulty because they are scanning the code wrongly. Most users scan the QR code with a third-party scanner or a random camera app on their phone.
The WhatsApp WhatsApp built-in code scanner is the only recognized QR scanner that works effectively with WhatsApp Web. This is because the WhatsApp Web URL is encrypted and, as such, only recognizes the QR scanner built into WhatsApp mobile app.
Open WhatsApp on your phone, tap the three dots menu (for Android users) or go to Settings (for iPhone users), then select Linked devices from the options displayed.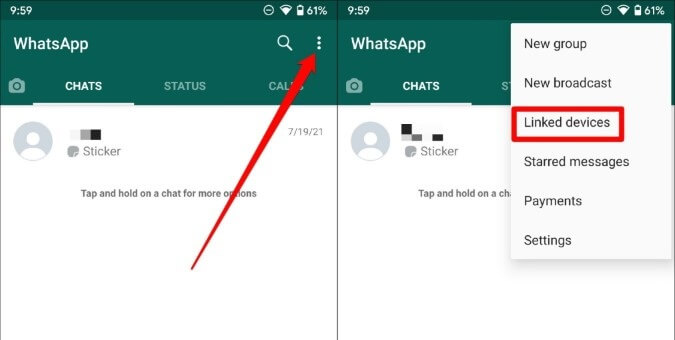 Then, tap the Link A Device button and align the WhatsApp scanner's viewfinder with the QR code displayed on your WhatsApp Web screen. Wait till WhatsApp Web establishes a connection with your phone (your phone vibrates when it's done), and you are good to go.
If the WhatsApp Web QR code is still not working after using your WhatsApp built-in scanner, then you can proceed to the next section of this article.
Part 2: How to Fix WhatsApp Web QR Code Not Loading?
If you have done everything right and still can't scan QR code from WhatsApp Web, there is no need to panic. The fixes are not usually far-fetched and sometimes just require a tweak here and there.
Without much ado, let's get to the first fix!
1

Reload WhatsApp Web

Sometimes the QR code does not come up on your browser due to delay (caused by network or browser activities) while loading the page. Also, the QR code might have been up, but you took time to scan it, causing the WhatsApp Web QR code not working.

In this case, you only need to reload the WhatsApp Web page. This can be done by pressing Ctrl + R keys on most browsers or simply press the refresh icon on keyboard. If refreshing still does not work, you can close the tab and reopen WhatsApp Web in a new tab.
2

Verify Your Phone's Connection

For WhatsApp Web to work effectively, your phone and PC must have a stable internet connection. If either of them is connected with the other's network failing, you might not be able to scan the QR code from WhatsApp Web. To confirm the activeness of your phone network:

Try opening any website on your mobile browser.

If the site goes through, you can try sending a message to your friends for a test.

If the message delivers and your status timeline is up-to-date, but you still can't scan the QR code from WhatsApp Web, proceed to the next fix.
3

Check Your Computer Internet Connection

As mentioned in the fix above, your computer must be connected to a strong and active network for WhatsApp Web to work effectively. To check if your computer is connected, taking a Windows PC as an example, press the Windows button and follow the path below:

Settings > Network & Internet > Status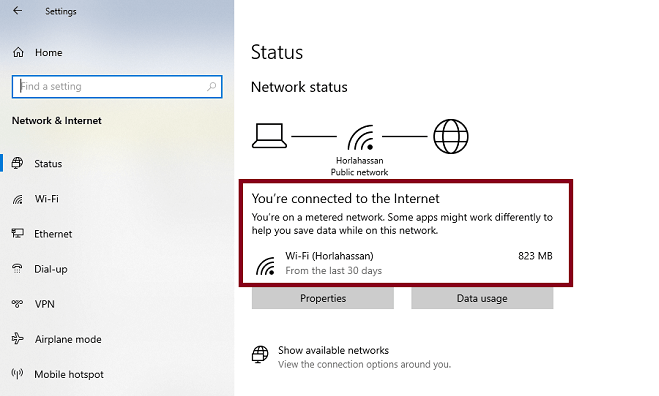 If your computer is connected to the internet and the WhatsApp desktop QR code is still not loading, you can try to open another website in a new tab to know if your network is active. If the site opens without delay, you can try to reload the WhatsApp Web page.
4

Disable VPN or Proxy Connections

WhatsApp Web is not very friendly with VPN. This because some countries the VPN might set your computer to do not support WhatsApp.

Some users with VPN have tried to disable it and reload the WhatsApp Web page, and it instantly solved the WhatsApp Web QR code not loading problem. You might also want to try this fix if you have an active VPN or Proxy connection.
5

Clear WhatsApp Web Cache and Cookies

The effectiveness of WhatsApp Web might be affected if your browser contains some corrupt or unwanted cache files created by WhatsApp Web in the past. To clear this temporary cache, let's take Google Chrome as example. Click on the three vertical dots (menu button) at the top right-hand corner and follow the path below:

Settings > Privacy and security > Cookies and other site data > see all cookies and site data

Now, search for web.whatsapp.com in the search box at the top of the page and click on Remove All Shown.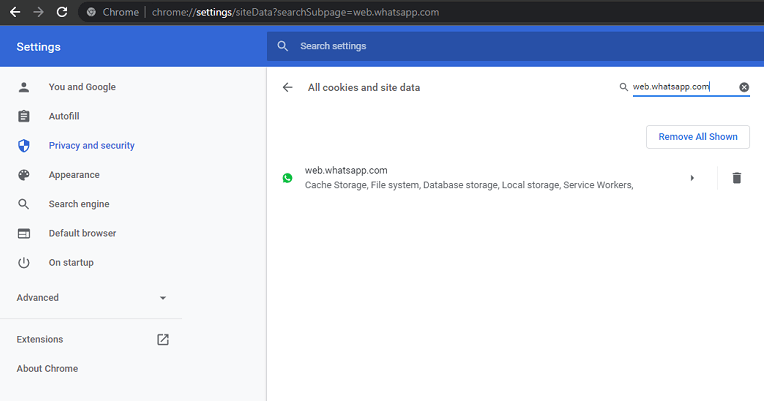 This will delete all the WhatsApp Web cookies on your browser. You can now reload the page and see if the WhatsApp Web QR code is loading now.
6

Disable Browser Add-ons or Extensions

Extensions and add-ons improve your browsing experience, but one or more of those extensions might be what is stopping WhatsApp Web QR code from loading. To ensure the extensions are not the cause, you need to disable them and reload the WhatsApp Web page.

For Chrome users, type chrome://extension in the address bar. This will show all the extensions on your browser. Toggle the button for each of the extensions backward to disable them.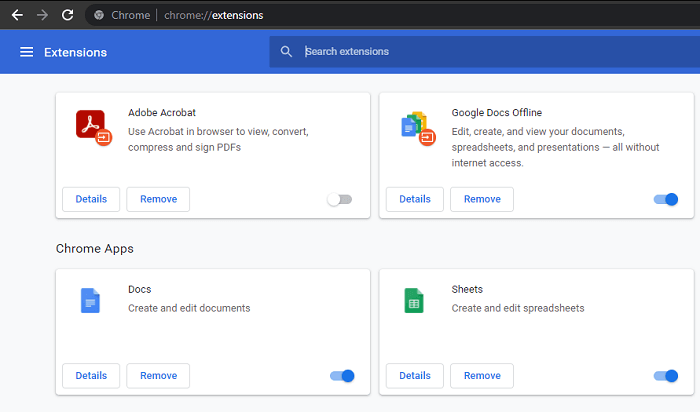 If WhatsApp Web QR code is not loading on Firefox, type about:addons in the address bar and click on the Extensions option on the left plane. From there, you can disable all the extensions and reload the web page.
7

Update Your Browser

An outdated browser can cause you all sorts of problems when surfing the internet, and WhatsApp Web is no exception. If you are using an outdated browser, connect your computer to the internet and update the browser. You can now restart the browser and relaunch WhatsApp Web.

It is also worth mentioning that WhatsApp Web only works on modern browsers such as Chrome, Firefox, Opera and Microsoft Edge. Old browsers such as Internet Explorer and Vivaldi are not supported. Therefore, ensure you use compatible browser to have any chance of scanning the WhatsApp QR code.
8

Switch Off Ad Blocker

While being a good addition for improved browsing experience, Ad blockers can sometimes mess with your WhatsApp Web, as observed by some users. All you need is to disconnect your ad blocker(s) and try loading the WhatsApp Web URL again.
9

Log Out from Connected Devices on WhatsApp

Your mobile WhatsApp keeps records of all the computers and browsers you have been connected to. Logging out of all connected devices has proved helpful in solving the WhatsApp Web QR code not working problem.

Once again, go to the Linked devices option. This will display your connection history. You can now click on each of the devices to log out from them. Lastly, reload the WhatsApp Web page and try to scan the QR code again.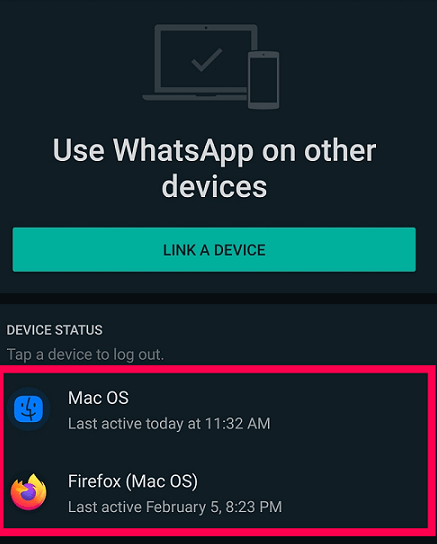 Quick Tip to Scan QR Code if WhatsApp QR Code is Not Loading
If you have tried all the fixes above but the WhatsApp Web QR code not loading problem persists (which is rare), here is a quick way to scan QR code that has worked for some users:
Step 1. Right-click on the QR code image on your PC and select the copy image option.
Step 2. Open Microsoft Paint or another image editing app on your PC and paste the image on a new editor tab.
Step 3. Use either a black or white background behind the QR code and scan with the built-in WhatsApp QR code scanner on your phone now.
Lastly, some users have reported that they printed the WhatsApp Web page with the QR code and scanned the QR code on paper. However, to have any luck with this method, you need to be fast because the QR code changes soon.
Wrapping Up
WhatsApp Web QR code not loading is one of the common problems faced by WhatsApp Web users. The possible causes vary from simple internet connection problems to some others that are hard to pinpoint.
This article contains an almost inexhaustible list of fixes that covers virtually all possible solutions. These fixes have been tested and proved helpful by users, and we do not doubt that you will find them useful if you follow the instructions to the last letter.