Doing a factory reset deletes all your data and apps from the phone and brings it back to factory settings. Therefore, it is recommended to back up your phone before doing a factory reset. However, if you have factory reset your phone accidentally, then there are still high chances that you can recover your photos. It is because factory reset does not remove the data permanently until that storage space is allocated to some other data. So, you can still recover photos and other data easily by following the right strategy.
Therefore, this article will teach you how to recover photos after factory reset on Android phones using 4 easy ways.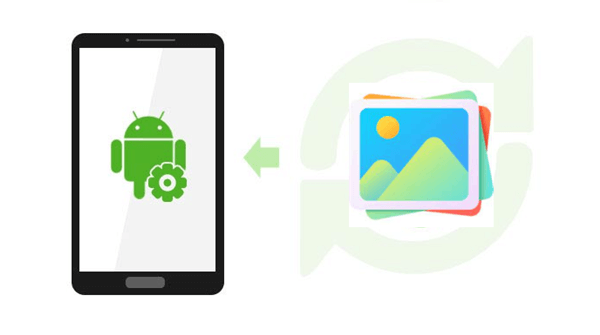 Way 1. Recover Photos After Factory Reset Android Without Backup
If you haven't made a backup of your phone data before factory resetting the phone, then you have to extract the data back using WooTechy iSeeker for Android.
It is a well-reputed Android data recovery tool known for offering the highest data recovery rate. Its intuitive user interface takes just a few simple clicks to scan, preview, and recover data. Its intelligent algorithms are designed to conduct deep scans of the local storage so that all the recoverable photos are extracted for recovery.
This tool does not just recover photos, it can recover other data types as well, such as videos, audio, messages, call history, etc. Moreover, it can also recover selective data from Google backup. Overall, it is one comprehensive Android data recovery tool.
What Makes WooTechy iSeeker(Android) Stand Out
100.000+
Downloads
Recovery without Root/Backup: It recovers the lost photos without root/backup.

Wide Android Brands Support: It supports 6000+ Android devices of different brands, such as Samsung, Xiaomi, OPPO, etc.

Preview before Recovery: It presents all the recoverable photos after the scan for a quick preview and selective recovery.

User-Friendly Interface: It offers a click-based graphical interface that anyone can use to instantly recover photos.

Secure: It provides 100% data security with no duplication of data and third-party data sharing.
Follow the below steps to use iSeeker(Android) to recover photos on Android after factory reset:
Step 1. Download and install iSeeker Android on your computer. Then connect your phone to the computer. Afterward, select the recovery mode - Recover Phone Data.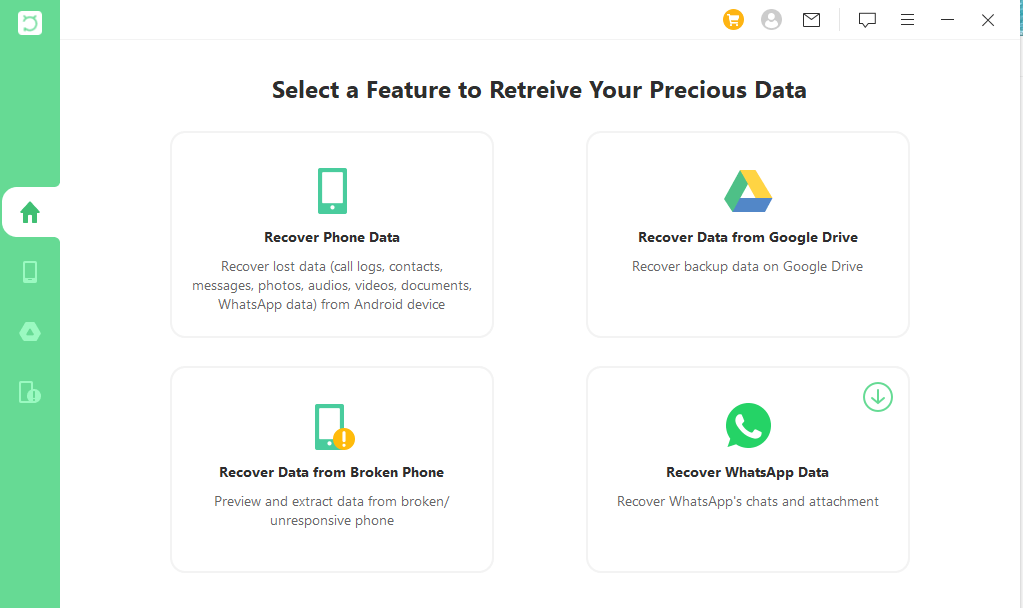 Step 2. Choose Quick Scan or Full Scan according to your need.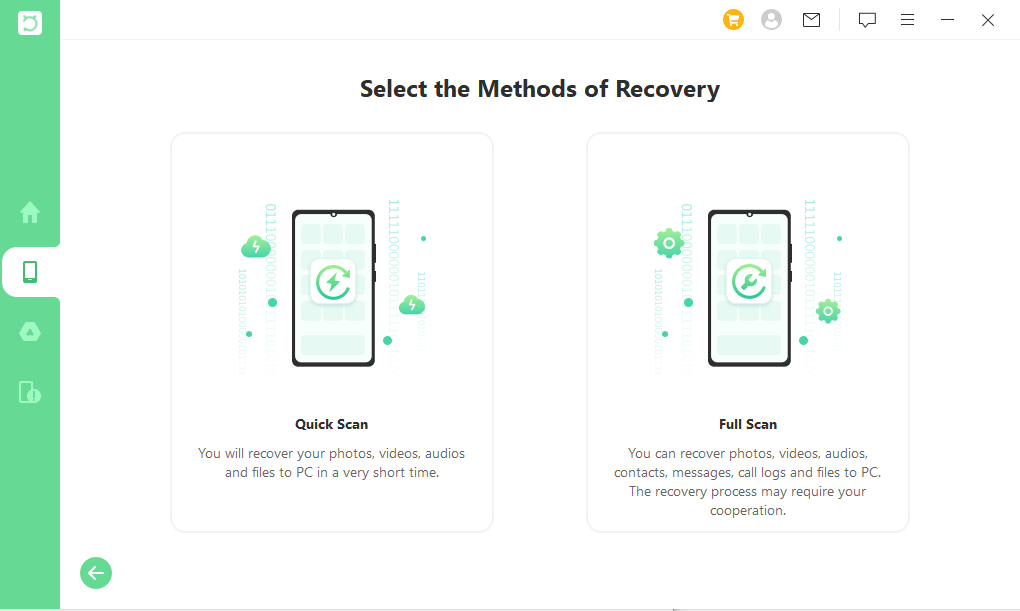 Step 3. Once the scan is completed, preview and select the photos you want to retrieve and click Recover.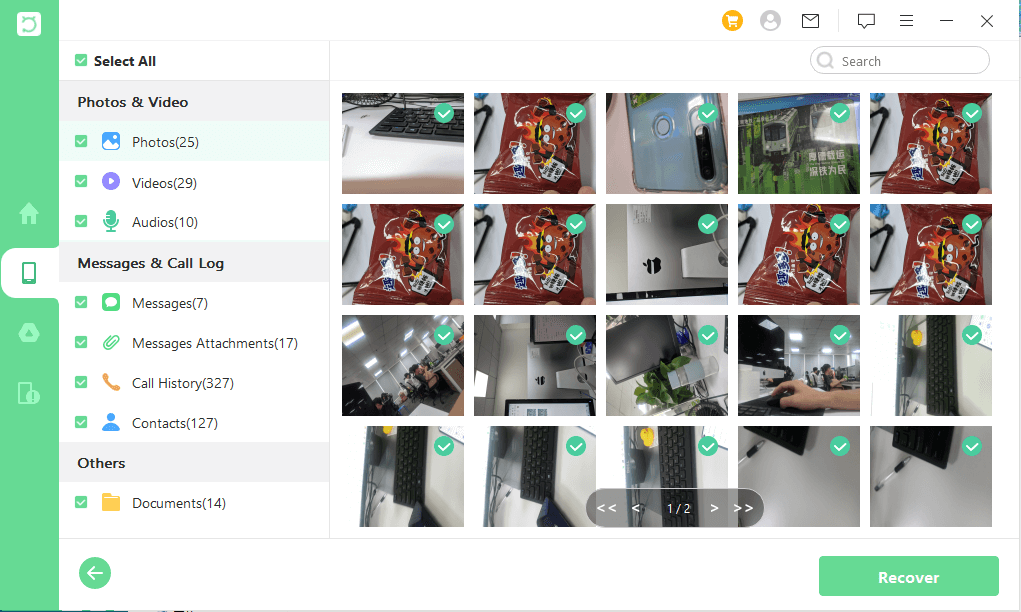 Way 2. Recover Photos After Factory Reset Android from Google Photos
If you use Google Photos to back up photos, then you can now re-download the photos back from it. So, once your phone is properly set up after factory reset and you have linked your Google account, then you can now use Google photos to recover photos.
Follow the below steps to learn how to get photos back after factory reset from Google Photos:
Open the Google Photos app on your Android phone.
Tap Library from the bottom menu bar.
Open the album that contains the photos you want to restore. Afterward, select the photos, tap the 3-dots icon from the top right corner, and then tap Download.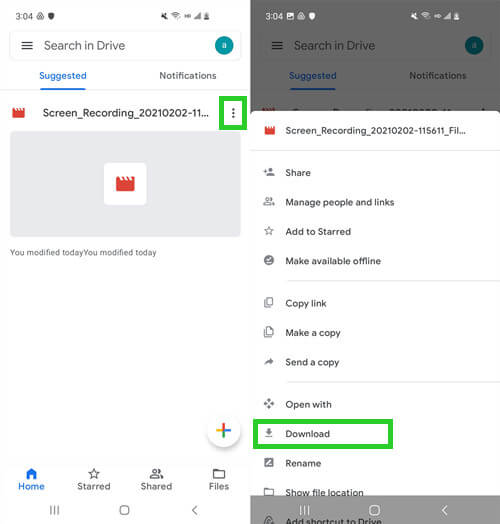 If you don't find the photos you want to restore, then tap the Trash album. Look for the photos there, select them, and then tap Restore.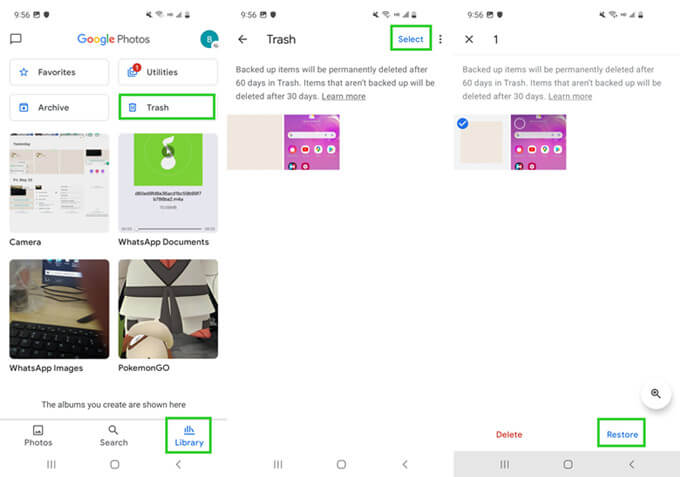 Afterward, you can instantly recover photos back to your phone from Google Photos.
Way 3. Recover Photos After Factory Reset Android from Google Drive
If you have backed up all the phone data on Google Drive before the factory reset, then you can easily recover photos after factory reset Android without root/computer. All you have to do now is restore the Google backup back to your phone.
Follow the below steps to learn how to restore photos after factory reset by restoring phone backup from Google Drive:
When the phone reboots after a factory reset, start following the on-screen instructions to begin the initial phone setup process. Once you see the option about restoring the backup, then choose Restore from Google Backup.
Sign in to your Google account that contains the backup, pick the right backup file, and tap Restore.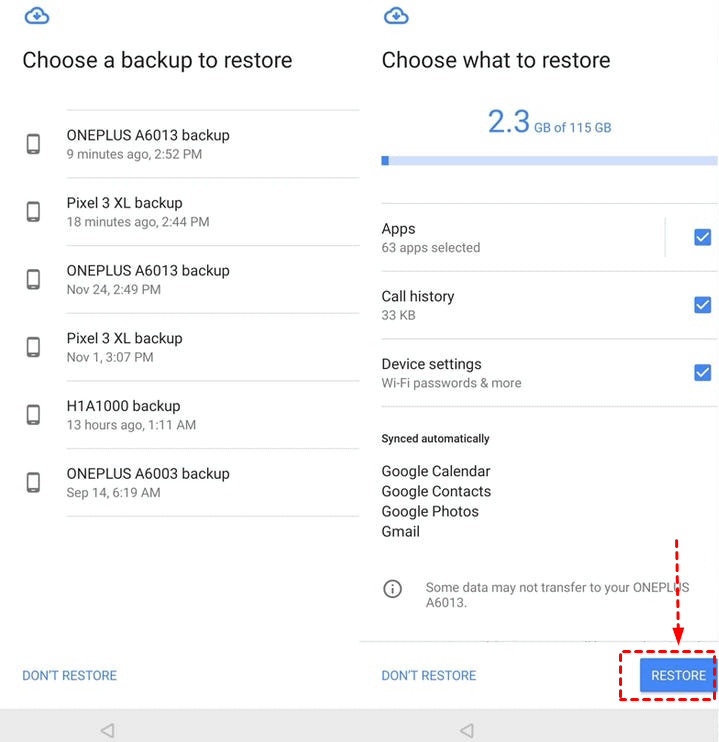 Wait till the backup is successfully restored to your phone. Once done, complete the remaining initial setup process.
When the phone is set up properly, go to Gallery and there you will see all the photos restored successfully.
Way 4. Recover Photos After Factory Reset Android from Cloud Backup
On Samsung phones, there is the Samsung Cloud to help users back up and restore data. Similarly, on other Android devices, there are also such cloud services. You can use your phone brand's cloud service to restore the lost photos if you have made a prior backup in it. Let's take Samsung Cloud as an example and discuss the steps on how to recover photos after factory reset Android without computer from cloud backup:
Open the Settings app from your Samsung phone, tap on your name from the top of the app, and then tap Accounts and backup.
Tap Restore data from the Samsung Cloud tab, pick the backup, and then select Photos as the data type to restore.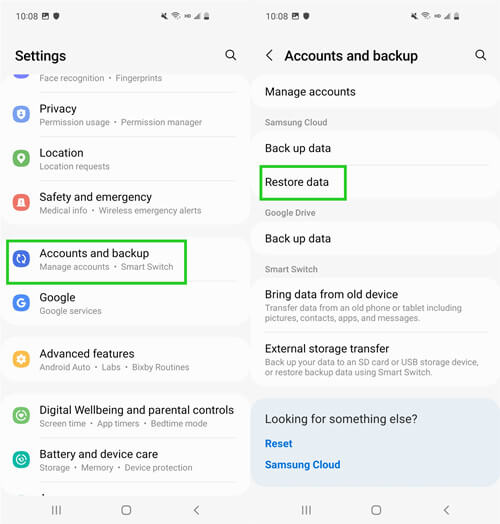 Tap Restore and then tap Install (if asked).
This way, you can easily recover photos after a factory reset using the backup from Samsung Cloud.
Conclusion
If your phone is factory reset unintentionally or intentionally, then you should avoid using it to increase the chances of recovering photos. Afterward, pick one of the above-listed methods to recover photos right away. So, if you have a prior backup of photos made via Google Photos, Google Backup, or cloud backup, then use that backup to restore photos.
However, if you are looking for an instant solution on how to recover photos after factory reset, then iSeeker for Android is the ideal one-stop solution for you. Its intelligent scanning capability, intuitive interface, and preview support ensure the highest recovery within minutes. Do give it a try today!