Are you looking for a way to change your iOS device's location? So that your GPS location would be in a different city, country, or even continent without actually leaving your current location. It is not that hard as long as you have a reliable iOS location changer.
In this article, we reviewed and explored the top 3 iOS location changes in 2023, their features, Pros and Cons, as well as the step-by-step guide to changing your iOS location.
| iOS Location Changer | Wootechy iMoveGo | Easus MobiAnyGo | LuckLuckGo |
| --- | --- | --- | --- |
| Support system | Windows&Mac | Windows | Windows&Mac |
| Capability | iOS/Android | iOS | iOS/Android |
| Simulate GPS movement | Unlimited spots | Limited spots | Limited spots |
| Location modes | 5 | 3 | 4 |
| Joystick control | Yes | No | Yes |
| Language Support | 16 languages | 9 languages | 6 languages |
Wootechy iMoveGo-The Best iOS Location Changer in 2023
When it comes to iOS location changer, Wootechy iMoveGo stands out as one of the best choices. This tool allows you to easily change your GPS location on iPhone/iPad/iPod/Android to anywhere in the world. It supports up to the latest iOS 16. With its user-friendly interface and wide range of features, Wootechy iMoveGo offers a seamless experience for users.
What makes Wootechy iMoveGo Stands Out
Spoof iOS Location: Instantly switch your device's location to any desired location worldwide with one click.

Simulate GPS Movement: Control the movement route and speed of your location change, mimicking realistic travel scenarios.

Joystick control: Manually navigate and explore any location.

Compatible with Different Apps: Works with various location-based apps, such as Find My, Life 360, Pokemon Go, Tinder, and Grindr, as well as with social media apps, such as Instagram and Facebook.

Multiple Location Modes: Provide 5 location modes to meet users' specific needs.

Save favourite locations &GPX file: Save frequently used locations for quick access, and support using the GPX location file.

Special features for Pokemon Go users: Provide a Pokemon Go cooling timer and PokeStop Map.
Advantages and Disadvantages of Wootechy iMoveGo
Pros
No Jailbreak or Root Required.

Easy-to-Use, even for beginners.

Very versatile and packed with features.

Support to change location on up to 10 devices. (Including iOS &Android)

Works on both Windows & Mac.
Cons
Computer-based software. No support for direct modification on mobile.
Step guide to using iMoveGo iOS location spoofer
Step 1: Download iMoveGo Location Changer from the Wootechy website and install it on your Windows or Mac OS.
Step 2: Launch iMoveGo and click on the Get Started button to begin changing your iOS GPS location. Connect your iOS device to your computer using a lightning cable or WiFi.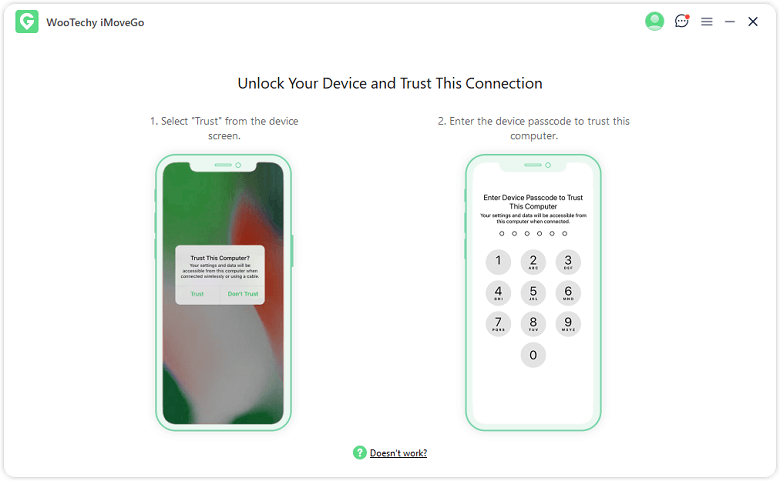 Step 3: In the next window, you'll see a map of your current location. You can select one from the 5 different modes in the top right corner. To change the iOS location instantly, choose Teleport Mode.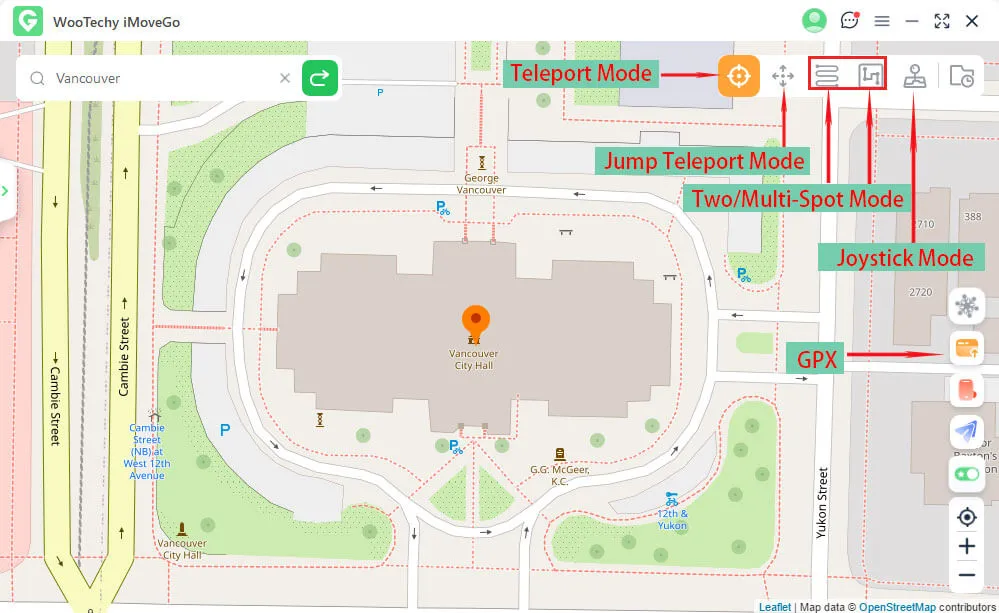 Step 4: Now, you can either select a location on the map or enter the GPS coordinates manually to set your desired location. Once done, click on the Move button to update your iOS location.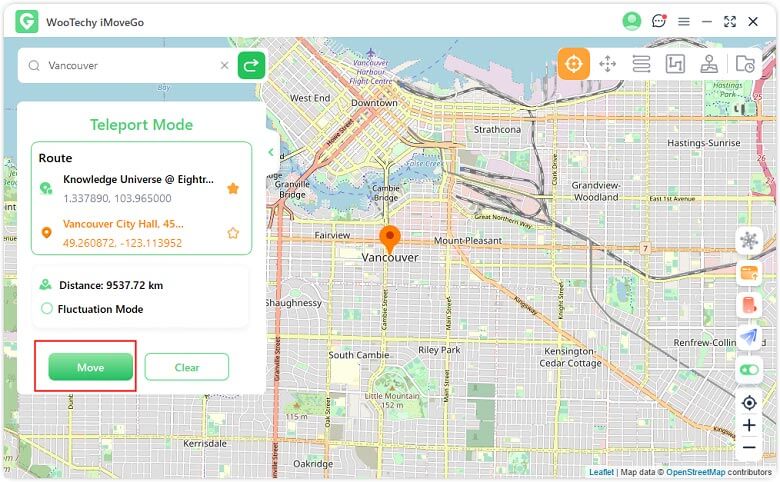 That's it! With these simple steps, you can easily change your iOS device's GPS location.
Easeus MobiAnyGo
Another top contender in the realm of iOS location changers is MobiAnyGo from Easeus. This program is based on PC and supports spoof location on iOS devices with iOS 9 to iOS 15, providing users with a wide range of features to customize their location settings.
Features of Easeus MobiAnyGo
Change iOS location to any desired place on the map.

Simulate movement from one place to another.

Support various location-based apps, including social media, dating, and gaming apps.

Provide 3 location modes to spoof iOS location.
Advantages and Disadvantages of Easeus MobiAnyGo
Pros
No jailbreak is required.

Change location on iOS device to anywhere.
Cons
Need to access the computer. Bur Windows Only and No Mac Support.

No joystick function.

No special features.

Supports iOS devices but does not fully support the latest version of iOS.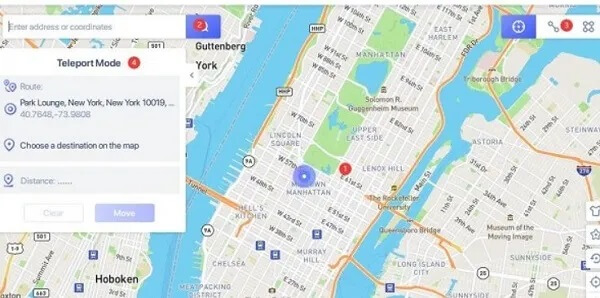 LuckLuckGo
LuckLuckGo is a location spoofer for iOS used on Pokemon Go that offers a plethora of functionalities. It is also available to spoof iOS location.
Features of LuckLuckGo
Works with Any LBS Game.

Provide 4 location modes to change iOS location.

Create customized routes on the map.

Manage your Pokemon Go movement direction with Joystick.
Pros
Available for both Windows and Mac OS.

No requirement to Jailbreak.
Cons
Steps to spoof iOS location with LuckLuckGo
Step 1: Visit the LuckLuckGo website and purchase a premium plan by registering your email. You will get a registration code. Now, you can download the LuckLuckGo software to your computer.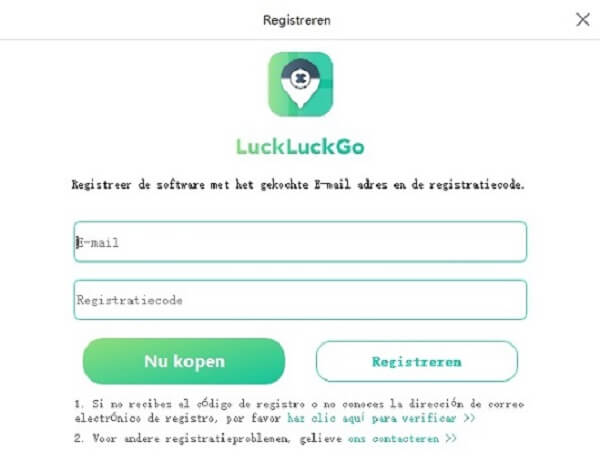 Step 2: Run the program, and enter the license code you have bought to activate LuckLuckGo. Then, connect your iOS device to the computer.
Step 3: For iOS 16 users, you have to enable the developer option on the setting. If failed, you can wait and try it again, as this tool may be a little unstable.
Step 4: Select a Mode on the left bar, enter a fake location, and you are good to go.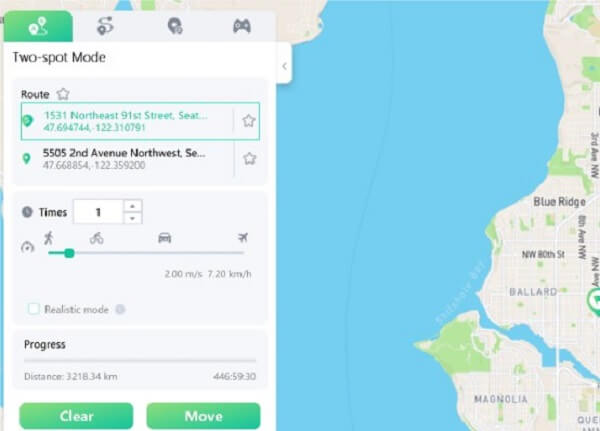 Conclusion
An iOS location changer is a powerful tool that allows you to alter your virtual whereabouts effortlessly. There are 3 excellent options available for iOS users looking to change their location without jailbreaking their device.
While Wootechy iMoveGo stands out with its customizable movement options and capability feature. Depending on your specific needs and preferences, you can choose different modes to change your device's location. With Wootechy iMoveGo, you can finally break free from location-based restrictions and explore the world from the comfort of your iOS device.
Download iMoveGo today and unleash the full potential of your iOS device!