Have you wondered how to get Pokemon Go 1km buddy without walking?
Finding a Dragonite can be tricky while playing Pokemon Go. The search can take you longer than expected. We've all been there. Luckily, this should no longer be a problem. There is a simpler way to find a Dragonite without embarking on a never-ending search. So, what's the catch here? Our guide today will look at the mode's features and how to activate it. Read on, you will learn how to make Pokemon Go 1km buddies without walking.
What is Pokèmon Go 1km Buddy?
Pokèmon Go Buddy enables your partner/buddy to accompany each other (like literal buddies). The Pokèmon dashes out rewards (candy) after covering a certain distance.
With a 1km Buddy, you will be accompanied for 1km before you are rewarded with candy for the second move. Different buddies have different capabilities depending on their evolution class.
You will start walking with a dratini which can last 1km, 3km, or 5km, depending on the cost it took to unlock. The Dratini will eventually help you find a much-desired Dragonite while walking. No searching!
Your mode's feature enables you to accomplish 2 late-game activities:
Evolving the creature you've already caught by filling out your Pokedex.
Powers up your Pokèmon to take on Gyms.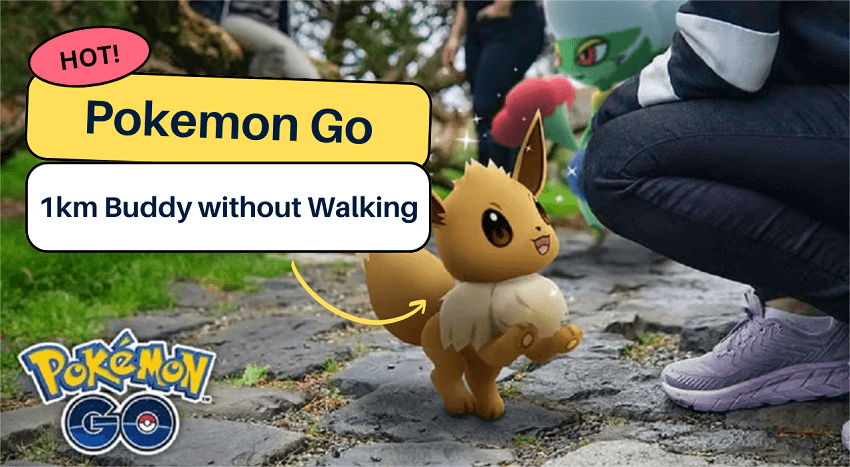 Distance Chart for Pokèmon Go 1km Buddies
The distance your partner will appear on the map depends on not only the cost taken to unlock the Pokèmon but also the evolution class. This means that while some will accompany you for 1 kilometre, others can be with you for 5 kilometres or 20 kilometres. Familiarise yourself with the 1km buddies. For more details, you can check the Pokemon Go Buddy Distance Chart.
You can walk with Tongepi as he holds your hand or Pikachu on your shoulder. The choice is all yours. Before coming to that decision, you need to enable the feature first. Do you know how?
How to Enable the Pokèmon Go Buddy Feature
Tap the trainer icon in the corner.
Select the burger icon at the bottom right for more options to display.
Choose any Pokemon of your liking.
You will be given a distance goal to cover with each Partner.
Now let's look at a more straightforward way to enjoy this game.
How to Make the Pokèmon Go 1km Buddy Without Walking
Pokèmon Go is a game with a whole new experience in the gaming world. You cannot talk about Augmented Reality gaming without mentioning this Niantic's game.
A game that enables you to explore the globe and show off your community to other gamers. This AR game undoubtedly brings one of the most remarkable 'Gen-Z' gaming experiences. However, do you want to know what can make its gameplay even more enjoyable? Playing it without having to move around? That is iMoveGo form Wootechy.
Overview of iMoveGo
To play Pokemon Go without walking, iMoveGo can do it. This is a location changer fully supporting Pokemon Go official game. Using this tool, you can spoof your GPS location and play Pokèmon Go from anywhere while in your living room. Besides, you can customize your GPS routes and speed to simulate the trainer's movement.
The app is compatible with both Android and iOS devices and has unique features and simple instructions that make it easy to use. Even a toddler can use it while playing an AR game. It also guarantees you security without being detected.
Some Features of iMoveGo-Spoof Pokemon Go location to Anywhere
75.000.000+

Download

Instantly change your location on Pokemon Go with only one click.

Simulate GPS movement with customized route & speed.

Control your GPS in Pokémon GO with the joystick.

Provide a built-in PokeStop Map and a cooling timer.

Supports up to 10 Devices at once.

Works with all location-based apps including dating and gaming apps.

Safe and no jailbreaking required.

Supports iPhone/iPad/iPod/Android devices.
Steps to Make 1km Pokèmon Go Buddy Without Walking
Step 1: Download iMoveGo on your PC or Mac. Install the app and launch it.
Step 2: Connect your iOS device to the computer. You can connect via USB or WiFi. While connecting via WiFi, ensure the devices use the same WiFi network or the phone's hotspot. Keep the phone's screen on till the connection is complete.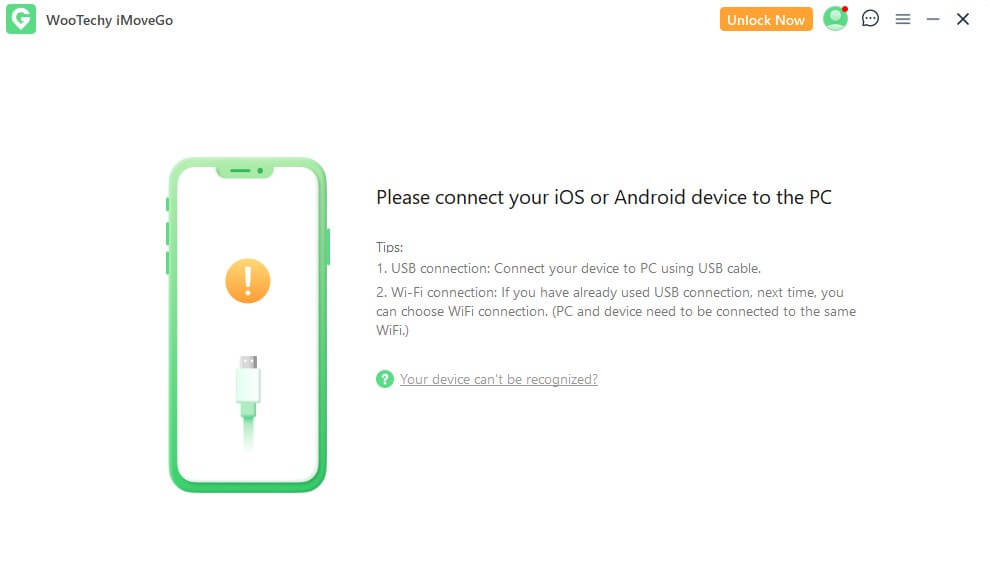 Step 3: Select Teleport Mode on the app. Pick a desired location. Click Move and your location on Pokemon Go will be changed instantly.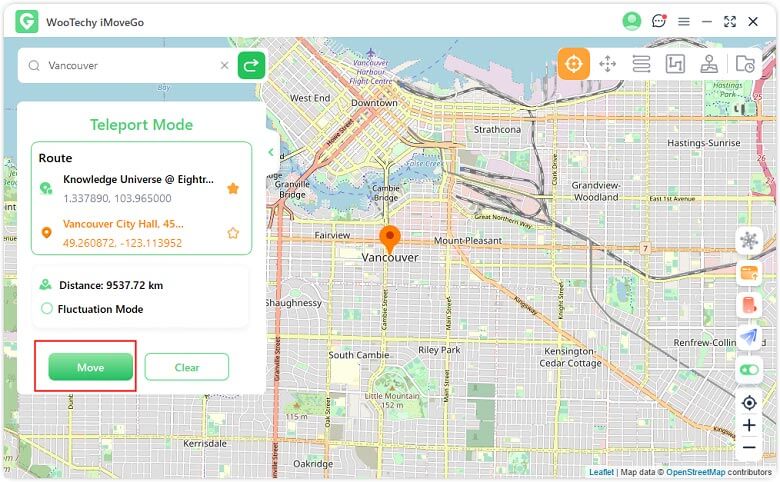 Step 4: To plan the stops you want to pass by while playing Pokèmon Go, choose Jump Teleport, or Two/multi-Spot Teleport Mode. Here you can set your favorite speed, or simulate the returns, jumps, and loops to have a reliable and realistic GPS movement.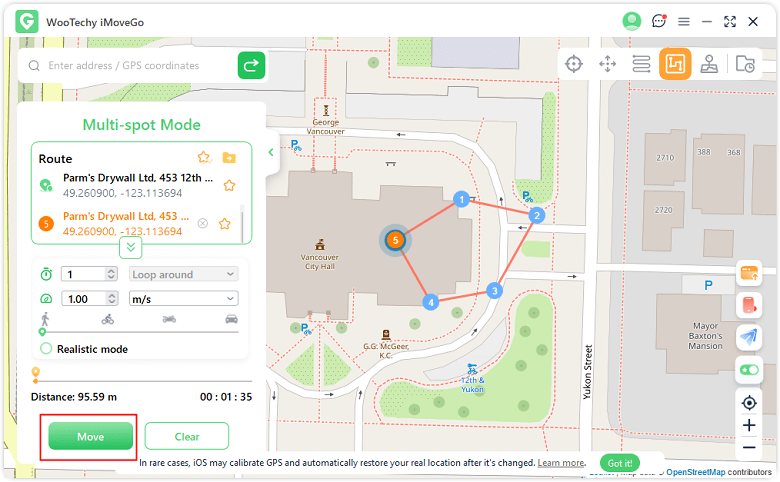 You can also explore the new location while moving around using a joystick.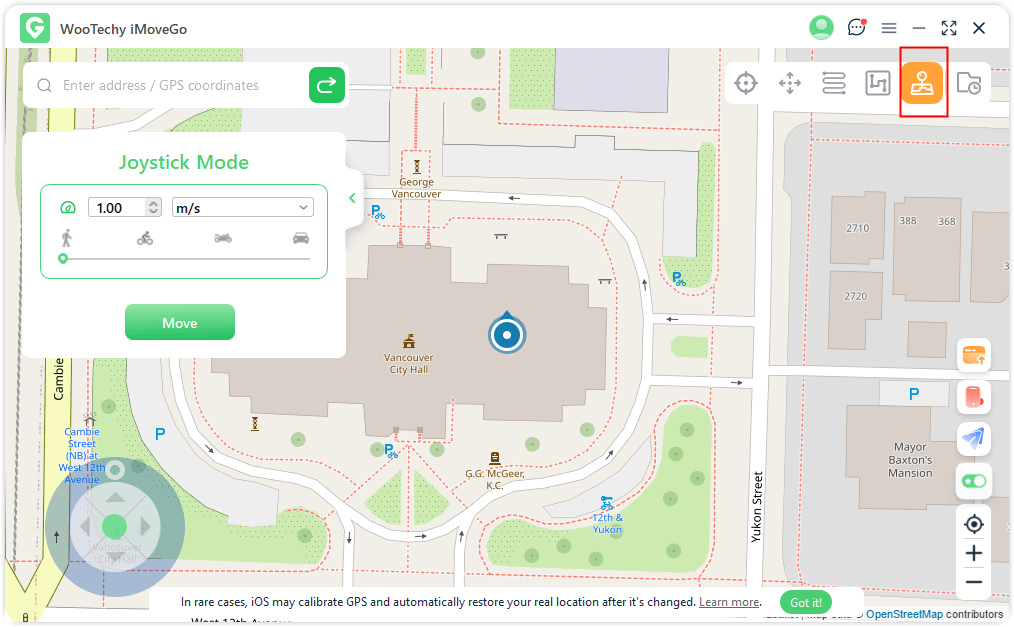 The step-by-step guide to faking your location is a piece of cake for both iOS and Android users. Follow the simple steps and give it a try. Then, easy to make Pokemon Go 1km buddies even if you are seat on your sofa.
How to Earn Hearts with Your Buddy in Pokèmon Go
Let's look at ways you can earn hearts on Pokèmon Go:
Giving your Buddy a treat. Go into AR mode and feed your buddy Berries or Poffins. Poffins elevate your pokèmon to the excited level, enabling you to earn double (3 hearts) the hearts for performing the same task.
Berries elevate to happy level earning you one heart, and your Buddy will stay on the map longer. The maximum number of hearts you can earn with a single Pokèmon on a single day is three.
Battle together. You can earn three points per Pokèmon by fighting in Go Battle League, Training battles, or Team Go Rocket Battles.
Walk together. Earn one heart by simply walking with your Buddy for 2km. You can earn up to 3 hearts per Buddy.
Visit new Gyms. Earn one heart by just visiting new Gyms. iMoveGo is available If you are not available to walk to find the Gyms.
Play together. Earn one heart.
Take a snapshot. Take of your pokèmon and earn one heart.
Bonus: Best Pokèmon to choose as a Buddy at 1km
While playing Pokèmon Go, everyone has their own preferred Buddy. For you, it could be Catorpie, Pikachu, Aaron, or Bidoof. Some players, however, struggle to select a partner. We have recommendations for a 1km buddy you should add.
Pidgey
Evolves to Pidgeotto and Pidgeot, which is a top-tier evolution in the Ultra League with below 2500cp.
Magikarp/Gyarados
Granados Evolution is also top tier above 2500cp in the ultra league. He is helpful in battles against rocket teams and raids. Magikarp has a final evolution where he evolves to Mega Gyarados.
Fletchling/talonflame
Also belongs in the ultra league with a CP of below 2500.
Conclusion: Playing Pokèmon Go Without Walking
Having company during the trips to the Gyms is such an impressive idea. The Pokemon Go 1km buddy mechanic provides a rewarding sense of progression and camaraderie, providing the opportunities to gather candies for evolution or power-ups.
However, if you are looking for a better way to get a 1km Pokémon Go, iMoveGo is a perfect choice. With that, you can collect more items and explore the game world without physically moving. Wherever the Pokémon or Gyms you want are, you can easily reach them!