Nobody wants to experience being locked out of their Samsung devices. Sadly, it occurs quite often since many people forget their passwords. Suppose you cannot recall your password and lose access to your device. There is a high chance you can permanently lose access if you don't sort out the issue in the right way.
Therefore, this article will take Samsung A11 as an example, and show you how to achieve Samsung A11 screen lock bypass. These methods can be also used for other Samsung models. If you want to get more information, please keep reading.
| Workable Solutions | Quick Guide |
| --- | --- |
| 1. Use Professional Unlocking Tool | Download the app > Select device information > Download data package > Start to unlock...More |
| 2. Via Find My Mobile | Log in with Samsung account > Choose the locked device > Locate the device > Start to unlock...More |
| 3. Via Android Device Manager | Log in with Google account > Select locked device > Type temporary passwords > Click the button...More |
| 4. Use Custom Recovery | Download ZIP file > Copy to the SD card > Reboot phone into recovery mode > Flash the file...More |
| 5. Use Emergency Call | Open emergency call > Type asterisks > Copy and paste the asterisks > Open camera > Pull down notification bar...More |
Is It Possible to Bypass All Kinds of Samsung Screen Lock, Such as Face ID and Fingerprints?
Yes. The principle operation of screen locks are similar, so it is possible to bypass all kinds of screen locks, whether face ID or fingerprint. But the process of bypassing different screen locks will be different. Using a professional unlocking tool is the most reliable choice. Or you can also try other ways to solve this problem. Below are some methods to help you achieve Samsung A11 screen lock bypass.
How to Achieve Samsung A11 Screen Lock Bypass
1

The Easiest Method to Bypass Samsung A11 Screen Lock- WooTechy iDelock (Android)

When it comes to professional unlocking tools, WooTechy iDelock (Android) can do the job perfectly. It can unlock any kind of Samsung screen lock, including PINs, patterns, passwords, fingerprints and face ID. You can use this tool to access your Samsung device quickly without data loss. Unlike other unlocking tools, iDelock (Android) is the safest and most reliable option you can choose.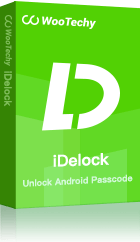 Features of WooTechy iDelock (Android)
This app can work effectively on thousands of Android devices, from Android 2.3 to Android 11.

The software is very user-friendly and comes with a simple interface.

There is no need to possess any technical expertise to operate the app, it's easy-to-use.

All kinds of Samsung screen locks can be unlocked with this tool, which is very useful.

Using iDelock (Android) to bypass screen lock, the data of Samsung users will not be lost.

The users have access to round-the-clock customer support service.

Steps to use WooTechy iDelock (Android) on Samsung A11:

Download and install WooTechy iDelock (Android) on your PC. Launch the bypass tool and select Remove without Data Loss to begin.

Select your device name and model, then click the Start button to continue.

Next, download the firmware package made available by iDelock (Android).

Using a USB cable, connect your Samsung device to your PC. And follow the steps to get your device into Downloading Mode. Once in this mode, tap the Start to Unlock button.

Now iDelock (Android) begins the process of bypassing the screen lock on your Samsung device. Wait for a few minutes, and the screen lock will be successfully removed with no data loss.

2

Use Find My Mobile to Bypass Samsung A11 Screen Lock

Find My Mobile is an application on your Samsung device which is used to locate your device. This feature becomes very useful when you lose your phone. Also, it allows you to bypass the lock screen. Before being able to use it, you need to have a Samsung account.

Steps to use Find My Mobile include:

Visit Find My Mobile and log in with the credentials of your Samsung account.

Select the locked Samsung device on the menu. Then wait for locating the device.

Now, click on the Unlock button.

Enter your Samsung account one more time, and you can unlock your device.

Cons

Find My Mobile only works when it is activated.

It will be useless if you haven't connected your Samsung account before being locked out of your device.

3

Bypass Samsung A11 Screen Lock via Android Device Manager (ADM)

If you forgot your Samsung account, you can try to use ADM (Android Device Manager) to bypass Samsung A11 screen lock. Below are the steps to use Android Device Manager:

Visit Android Device Manager on the browser.

Use the credentials of the Google account you registered on your locked device to sign in to Android Device Manager.

Select the device you want to unlock, then click on Lock.

You will be directed to a page where you need to type in a temporary password. Afterward, click on the Lock button again.

Now use the temporary password you just created to unlock your Samsung device. And you can access your device successfully.

Cons

This option only works if your Google account is linked to your Samsung device.

You need to make sure the Android Device Manager is activated before proceeding.

4

Bypass Samsung A11 Screen Lock with Custom Recovery (SD Card Needed)

Here is another way that could help you bypass Samsung A11 Screen Lock. To use this method, you need to prepare an SD card and install a custom recovery first.

Steps to Bypass Samsung A11 Screen Lock with Custom Recovery:

Step 1. On your PC, download a ZIP file called Pattern Password Disable. Then copy it to your SD card.

Step 2. Insert the SD card into your Samsung device and reboot your phone into recovery mode.

Note

To get into recovery mode, please long press the

volume up

and

volume down

buttons together until the screen turns black. Then press and hold the

volume up

and

power button

simultaneously until the recovery mode screen appears.

Step 3. Next, flash the file on the SD card and reboot your phone.

Step 4. Now your phone is unlocked. You can access your device.

Cons

The procedure requires technical skills to be done successfully.

After the unlocking process, all of the data will be lost.

5

Use Emergency Call to Bypass Samsung A11 Screen Lock

The emergency call is also another trick to bypass Samsung A11 screen lock. When you are locked out of your phone, you can use this function to unlock it. The steps of this method are complex, please follow the guide to operate it carefully.

Steps to use emergency call include:

Step 1: Open the Emergency Call on the lock screen. Type asterisks (*) 10 times on the dial page.

Step 2: Copy these asterisks and paste them on the screen. Repeat this process preferably 10 to 11 times till you are no longer able to copy the asterisks.

Step 3: Next, open your device camera by swiping the lock screen and pulling down the notification bar at the same time. Then click on Settings, and the password field appears.

Step 4: Paste the characters you copied earlier in the password field 10 to 11 times. Always ensure the cursor is at the end before pasting the characters again.

Step 5: When the user interfaces and buttons no longer appear. It means the interface crashes. Now your access has been successfully restored.

Conclusion

The screen lock become an issue when we are unable to access our devices. So a screen lock bypass is required when you cannot recall the password. In this article, we discussed the different methods of achieving Samsung A11 screen lock bypass. WooTechy iDelock (Android) is the most exceptional one. It is a fast and effective way of achieving screen lock bypass. Just follow the easy steps to get started. Let's give it a try!