There are countless apps available on mobile phones with various uses and categories. The real-time voice changer category is one of the least recognized groups. However, they provide mobile phone users undeniable features. You can call anyone with various voices like funny, scary, celebrity, animal, female, male, etc. These features come in handy when trying to create a comical memory with someone.
However, many call voice changers on app stores are full of ads and inoperable. To avoid trying out many options, you can use any of the six listed call voice changers discussed in this article. Guaranteed, they will take your pranking game to the next level.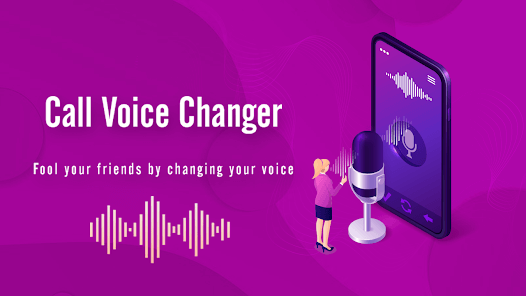 Part 1. Can I Change My Voice During Call?
Yes, you can make changes to your voice during a call. There are two popular ways to change one's voice during a call. These options are the carrier's magic voice feature or call voice changer app. Some carriers have the magic voice feature that alters your voice and the background noise when making a call. Alternatively, you can use the voice changer app during a call. These alternatives provide more options than most carrier magic voice services. Follow through this article to find out more about call voice changers.
Part 2. Which Is the Best Voice Changer App During Call?
Many apps on various stores do not perform the expected functions. For instance, some apps might not function in real-time. There are other apps with difficult UI that maybe challenging to use, full of ads, requesting permission to jailbreak your phone, etc.
To help you avoid spending so much time skimming for the right option, we have put together the best six voice changer app during a call.
1. The Best Voice Changer for PC Calling
If you make calls on your computer and would like the touch of your voice to sound different, then you should go for WooTechy SoundBot. Our software package is a real-time call voice changer app with countless voice options. If you desire different voices like funny, scary, anime, female, male, etc., they are available on WooTechy SoundBot.
Furthermore, you can record your call and export your audio recording. Hence, you can play your audio recording anywhere or share it with anyone. In short, WooTechy SoundBot allows you to create any kind of vocal identity with about 100 available voice filters and more than 200 voice effects.
You might want to get a new identity or mimic an existing one. Also, there is a feature called keybinds on the app that allows you to switch voices by pressing an assigned keystroke.
How to use the voice changer in real-time:
Download and install the software. Open the app and set it up by choosing your output and input devices.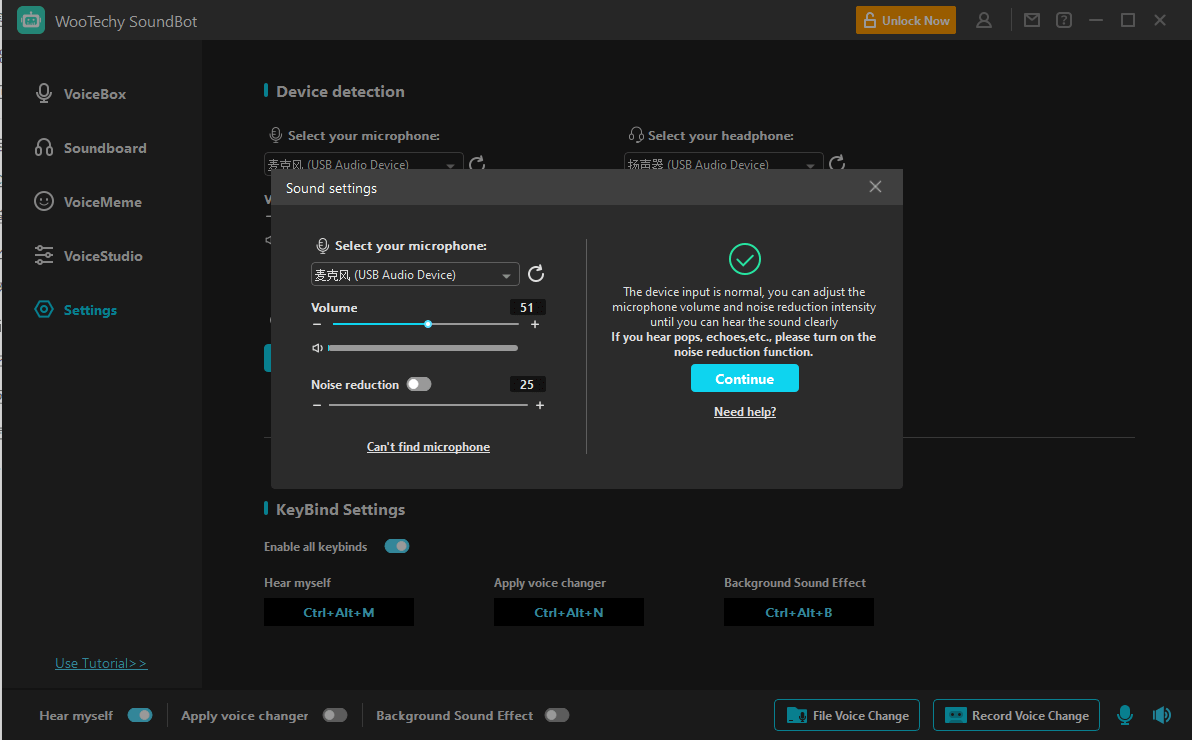 Pick a voice from VoiceBox and change your voice during a program or game call on your computer.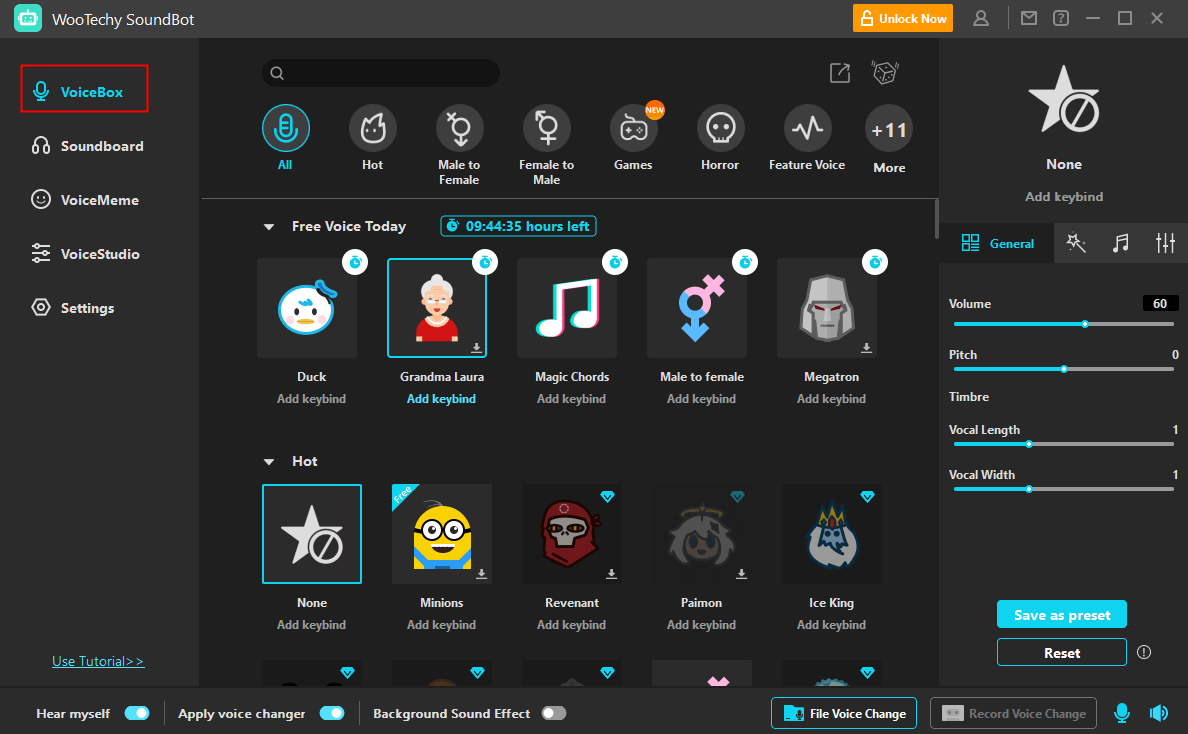 Pros
The keybinds features makes switching between voices fast.

There are numerous voices to pick from and constant updates are provided for new voices.

It can be used for various scenarios like live chatting, online education, gaming call, etc.

Offer daily free voices.
Cons
It is not available on mobile device.
2. Clownfish Voice Changer
This call voice changer works on every PC application that uses your audio capture, like a microphone. Clownfish Voice Changer allows you to pick different background music for your call. You can add any audio format to the app.
Apart from that, the background music source can also be online. Clownfish Voice Changer is supported across various Windows OS. Similar to keybinds in other voice changer apps, you can assign a hotkey to predefined sounds. The steps below will show you how to effect voice change after installing.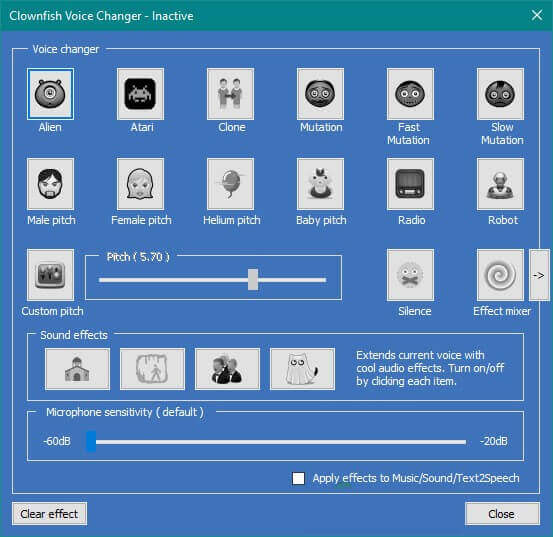 Open the Audio/Sound settings on your PC. Click on the recording devices option.
Click on Microphone and select Properties. (If there is an Enhancements property tab, uncheck the Disable all enhancements box.)
Open the Advanced property tab. Ensure the Enable audio enhancements box is checked.
Try each of the four installation modes in Clownfish's Setup menu to know which is best for your device.
Pros
Can play sound effects and background music simultaneously.

The output audio is of high quality.
Cons
It is only available on Windows OS.

The voices and sound effects are limited.
3. Call Voice Changer - IntCall
IntCall is highly rated among other call voice changer apps. It allows iPhone users to perform real-time voice changes in different languages. Also, the user interface of this app is straightforward for beginners to use. You can include a lot of background effects you want or make your voice sound louder on the call with Call Voice Changer - IntCall.
However, users would need a strong data connection that can withstand being on a call and still keeping the app running.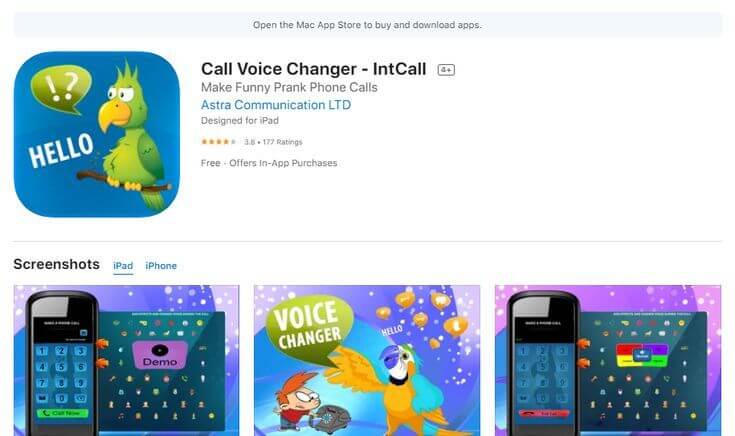 How to use IntCall voice changer:
Download and install the app. Keep the app running while you open your dialer screen.
Pick the contact you want to call and dial it. You will automatically see a screen to pick how your voice should sound.
Pros
Cons
It only works on iPhone devices.

There will be interferences if the internet connection is not strong.
4. MagicCall – Voice Changer App
The MagicCall call voice changer app provides different voice characters on live calls. It is focused on eradicating boring phone conversations. For instance, an auto-detect feature identifies your voice and allows you to pick a different one of your choice.
Before starting your live call, you can use its dedicated Voice Test feature to know exactly how you sound. Hence, you can imagine your audience's response and maximize the impact of the voice you want to use.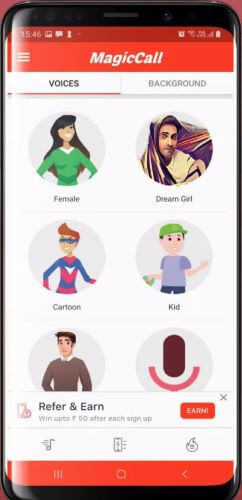 How to use MagicCall app:
Download and install the app. Register you contact number.
Pick an icon that matches the voice you prefer and make a call.
Pros
You can interject your call with various tracks, like birthday songs, traffic effects, rain, etc.

There is a noise reduction feature on the app.

You can make a call through the app or use your phone app.
Cons
It is available only for Android phones.
5. VoiceFX
VoiceFx is another well-known voice changer app during a call. There are many ways you can change your voice in this app. For instance, you can increase or reduce the pitch of your voice over the call. You can even add an echo or change the playback speed to throw your call recipient off.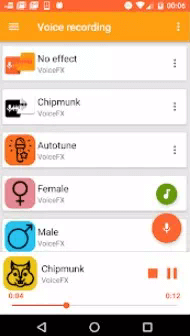 However, this app does not give multiple voice options. Instead, you can use its other voice effects and equalizer to fine-tune the sound to something creepy or hilarious.
How to Use VoiceFX:
Download and install the app. Open the app and click on the menu button to load the app feature.
Pick the feature you want and speak into the app.
Pros
It has built-in voice recorder.

It has a voice playback feature to check your recording.

There is also a live voice streaming feature.
Cons
It has very limited features.

It works on only Android devices.
6. Girls Voice Changer
The sixth app on this list is a voice changer app male to female. You can use it to prank your friend for their response to a male or female stranger on any exciting request. There are other voices available on this Android app, like a robot, kid, etc.
However, you cannot use the feature on a live call. You can only record your voice and share it with anyone using any platform.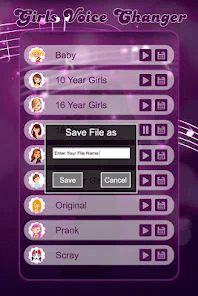 How to use Girls Voice Changer:
Download and install the app. Open it and tap on the start button.
Adjust the pitch or pick a voice accordingly to get your desired speech.
Pros
It is simple for anyone to use.

It has a recording feature.

It allows users to adjust the pitch and speed of their voice.

You can access the call history feature on the app.
Cons
You cannot use it on a live call.

It is only available for Android devices.
The Bottom Line
Using call voice changer apps makes phone conversation pretty interesting. Hence, we have shared our list of the best six real-time call voice changer apps. All these apps have unique features that qualify them for this list. However, WooTechy SoundBot is the overall choice for the best result for different live chatting and gaming calls.