We use WhatsApp for personal chats, business deals, multimedia transfers, etc. But the problem occurs when we change our device and need to transfer so much data from our old phone to the new one.
Samsung has a software called Smart Switch that can transfer data from Android or iOS devices to Samsung devices. But does Smart Switch transfer WhatsApp?
There are different opinions online about whether Samsung Smart Switch transfer WhatsApp messages. Well, in this article, you will get the most useful and fullest answer. So keep reading.
Part 1. Does Smart Switch Transfer WhatsApp?
The Smart Switch is pretty handy when transferring data to other devices. But does Samsung Smart Switch transfer WhatsApp messages? Well, some articles claim that Smart Switch can't transfer WhatsApp files or messages as WhatsApp uses end-to-end encryption for its chats and media. On top of that, some complicated procedures, compatibility issues, and device limitations hinder WhatsApp's transfer process.
However, Samsung official said that Smart Switch can migrate WhatsApp data to Samsung devices with just a USB C-lightning cable. Yet it should be noted that it's limited to only iPhone-Samsung transfer. And your Samsung device should be brand-new or has been reset to factory settings.
Part 2. What Will Smart Switch Not Transfer?
With Smart Switch, you can transfer personal contents like photos, videos, contacts, calendar events, notes and messages, App data and device settings to your Galaxy. But Smart Switch cannot transfer data from synced accounts although they will show up on the Samsung device if you sign into the same account.
Part 3. The Best Samsung WhatsApp Transfer Software -- WooTechy WhatsMover
Although Smart Switch can transfer WhatsApp, there are many requirements should be met and other limitations such as low success rate and limited devices. If you want to transfer WhatsApp data with a 100% success rate and without the devices restrictions, then you are suggested to use professional WhatsApp transfer software. WooTechy WhatsMover is widely used and can easily transfer WhatsApp from or to Samsung with several clicks.
WhatsMover – A Powerful WhatsApp Transfer Tool
100.000+
Downloads
Able to transfer WhatsApp between iPhone and Android devices without OS restrictions.

Can transfer WhatsApp from iPhone to Samsung, Samsung to Samsung, Huawei to Samsung, or Samsung to any other iOS or Android devices.

100% secure, it ensures your data privacy and supports transfer all WhatsApp data like stickers, photos, videos, messages and more.

Have other functions such as back up WhatsApp on Samsung, restore or export WhatsApp backup.
We will show you how to transfer WhatsApp with WooTechy WhatsMover using the example of Samsung to Samsung.
Step 1: Connect Devices to PC
First, you need to download and launch the Whatsmover application on your PC. Then, you will notice the option "Transfer WhatsApp between Devices" on the left panel. Choose the option.
Get a USB cable and connect your devices to the computer. Then, you need to fix the destination and source between the devices. Please make sure you choose them correctly.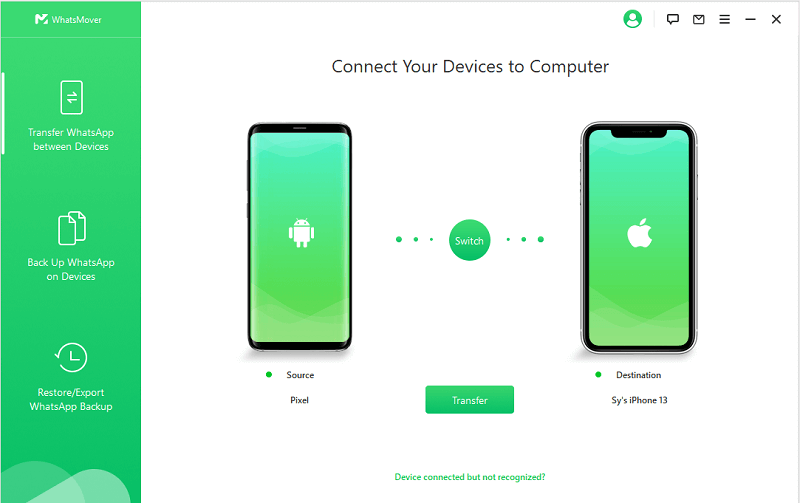 Step 2: Choose WhatsApp Type
After both devices are recognized, you need to start the transfer process. So, click on "transfer."
A window will appear to confirm the WhatsApp type - whether WhatsApp business or WhatsApp messenger. Choose your type. Typically, most people go for WhatsApp messenger.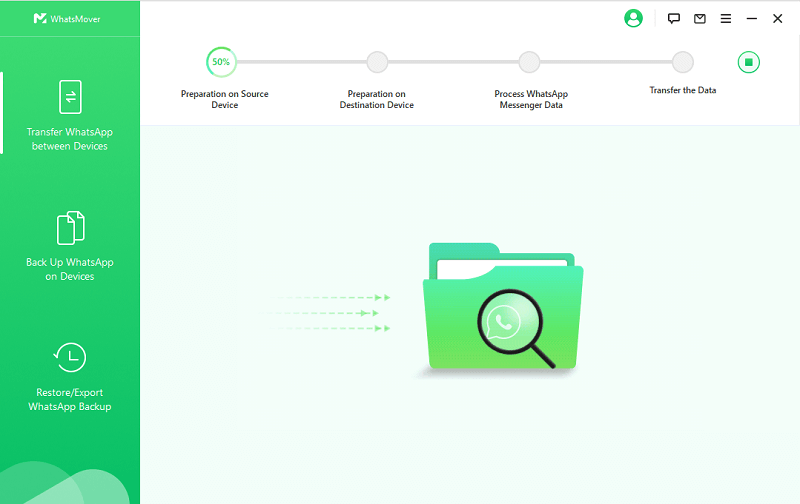 Step 3: Start Transfer
After that, your WhatsApp data transfer will automatically start. Just give the confirmation. It would help if you waited a bit to complete the transfer. The total transfer time will be dependent on your file sizes and the amount of data.
When the transfer is complete, you will notice all the WhatsApp data, including video, photos, and messages appearing on the destination device.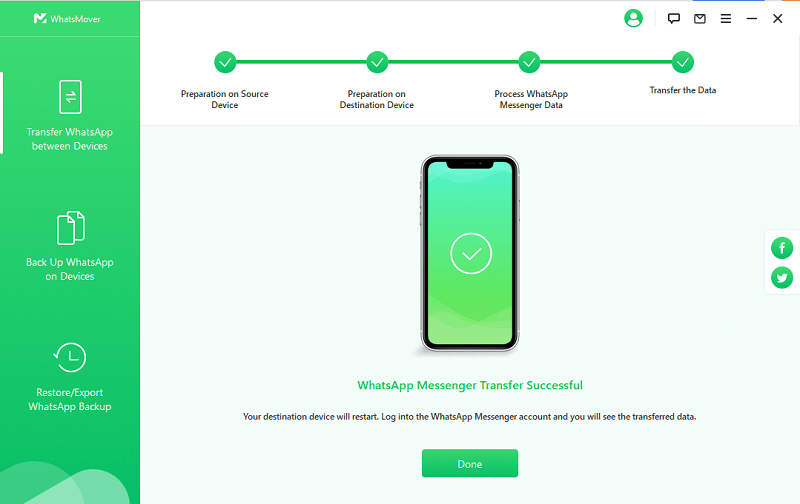 Part 4. How to Transfer WhatsApp from Samsung to Samsung
There are also other ways to transfer WhatsApp from Samsung to Samsung. Here are a few methods:
1

Via SD Card

If both of your Samsung devices have a SD card, then you can transfer WhatsApp with the card.

Launch your WhatsApp. Go to Chat Backup through Settings.

Disable the Back up to Google Drive option. Return to Back Up and tap on the option.

Data will be stored on the SD card. Insert the SD card into your new phone.

Go to the WhatsApp folder from the SD card and choose Databases.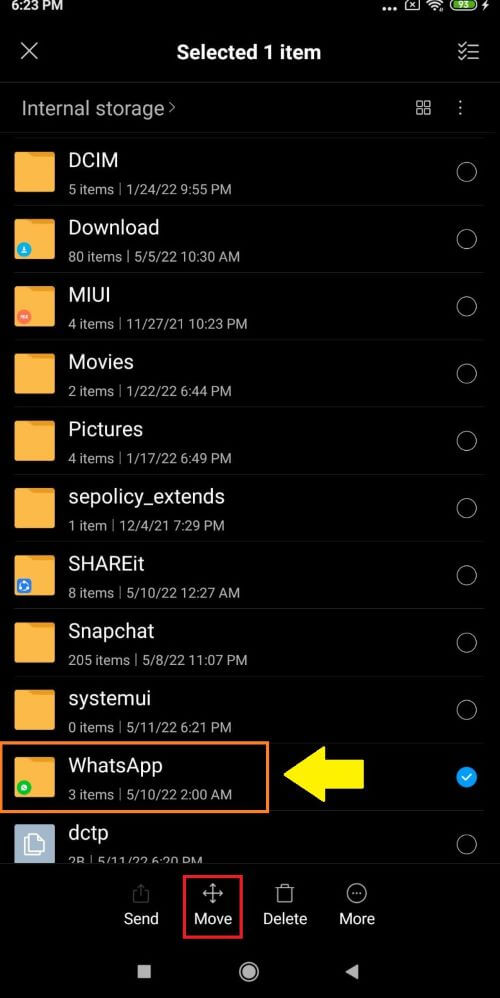 Choose the most recent backup and download.
2

Via Email

Email is another possible way to transfer WhatsApp from an old Samsung to a new Samsung device. But this method can allow you to transfer only one chat at a time and the data won't appear in your WhatsApp of new Samsung phone. You can merely read it in your email.

Launch your WhatsApp and select a piece of WhatsApp message.

Go to the three dots and select More. Click on Email chat.

Choose multimedia if you want. Enter the mail address and Send.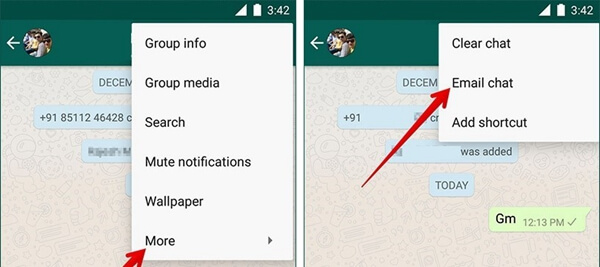 Sign in with the email account on your new phone. View WhatsApp chats in your mail.
3

Via Google Drive Backup & Restore

Android phones can back up their WhatsApp data to Google Drive. In this way, you can transfer WhatsApp from Samsung to Samsung by restoring the Google Drive backup.

Launch your WhatsApp. Click the three dots and go to Settings > Chats > Chat Backup.

Enable the Back up to Google Drive. Choose a mail address and tap on Back Up.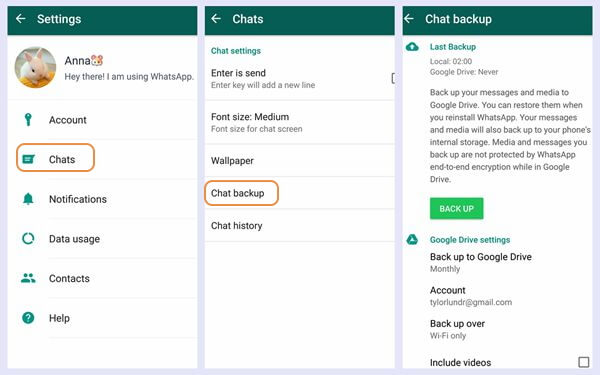 Delete WhatsApp on your old Samsung phone and install it on the new Samsung phone. Tap on Restore while setting the WhatsApp.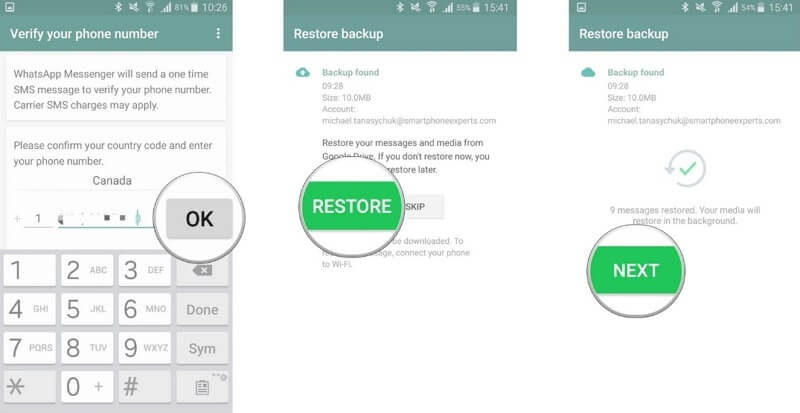 Wait for a bit. Your WhatsApp data is recovered to your new device.
Conclusion
The question on "does smart switch transfer WhatsApp" has the right answer in this article. We hope you can totally get it and have chosen the most helpful way to transfer your WhatsApp data after you switch phones. Now you can transfer your WhatsApp data from Samsung to Samsung or iPhone or vice versa using the WooTechy WhatsMover WhatsApp transfer software.