As you use WhatsApp, you will be receiving and sending many photos, videos, and documents while communicating with others. Eventually, you will have a ton of storage being taken up by this media, especially with higher resolution footage becoming the norm.
In this case, you need to complete your WhatsApp videos backup, or WhatsApp photos backup to keep your valuable WhatsApp videos and photos safe.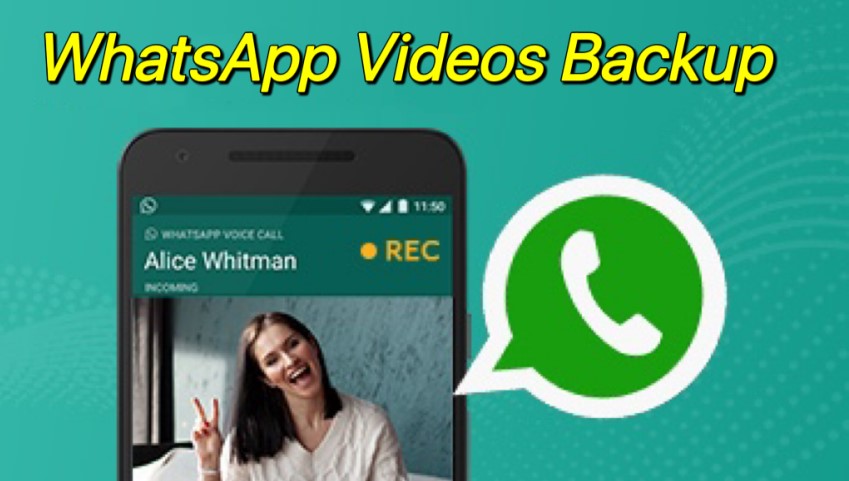 Even though WhatsApp is an easy-to-use software, it can be challenging to figure out how can you do to back up your WhatsApp videos, especiailly, those in a large cache.
Don't worry, we will go into the full explanation of how to back up WhatsApp videos, which will work with any phone device, whether it be Android or iPhone devices.
WooTechy WhatsMover -- WhatsApp Backup Video Guide:
Part 1. Why Is WhatsApp Not Backing Up Videos?
WhatsApp has many different options for backing up photos/videos, but unless you turn on automatic backups, WhatsApp won't back up anything by default. Besides, this is a good thing as automatic backups can clog your storage.There may be reasons below if your WhatsApp videos backup not working:
Backup might not be turned on.

Storage might be full.

Too-large-size video.

Shoddy network connection.

Backdated WhatsApp versions.
Part 2. How Do I Back Up My WhatsApp Videos?
The following steps will give you a very clear explanation of how to back up WhatsApp videos and photos with 6 totally-free methods. Keep reading, you can definitely find out the easiest and most convenient alternative to sovle the WhatsApp video backup issue.
2.1 Use the Easiest Method to Complete WhatsApp Videos Backup (Android & iPhone)
To help you fix WhatsApp video backup issue, the most efficient and easiest way must come first, that's to use WooTechy WhatsMover, which is a professional and official WhatsApp backup software that allows you to back up all of your WhatsApp data at once.
Moreover, WhatsMover supports every users to freely back up WhatsApp chats without any restrictions, which allows you to finish your WhatsApp backup on both Android and iPhone devices to PC.
WooTechy WhatsMover—Top Hot Wat to Complete WhatsApp Video Backup:
100.000+
Downloads
Free Backup: Allow any user to freely back up all the data including chats, images, videos and all formats of documents.

Compatibility: Work with both WhatsApp Messenger and WhatsApp Business, and also support both all brands of iPhone and Android devices such as Huawei, Xiaomi, LG, Samsung and more.

100% Security: Ensure your data privacy without overwriting or deleting the previous backup during the whole backup process.

Unlimitation: Support to back up WhatsApp chat on Android & iPhone to your computer without any Storage or OS limitation.

WhatsApp Transfer Functions: Aside from its free WhatsApp backup function, WhatsMover also supports you to transfer WhatsApp from Android to iPhone or vice verse, iPhone to iPhone and Android to Android
Here are the 3 simple steps about how to back up WhatsApp photos and videos via WhatsMover:
Step 1 Open up WooTechy WhatsMover and make sure you are using a working USB cable that can connect your Android or iPhone devices to your computer. Then navigate to the Back Up WhatsApp on Devices menu and tap Allow this Device if you are using an iPhone.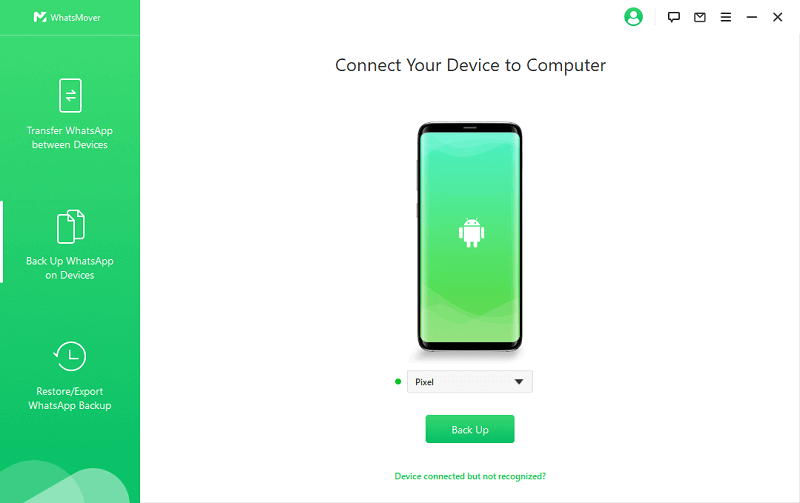 Step 2 Now, proceed to the Back Up button in the middle of the screen to start the process.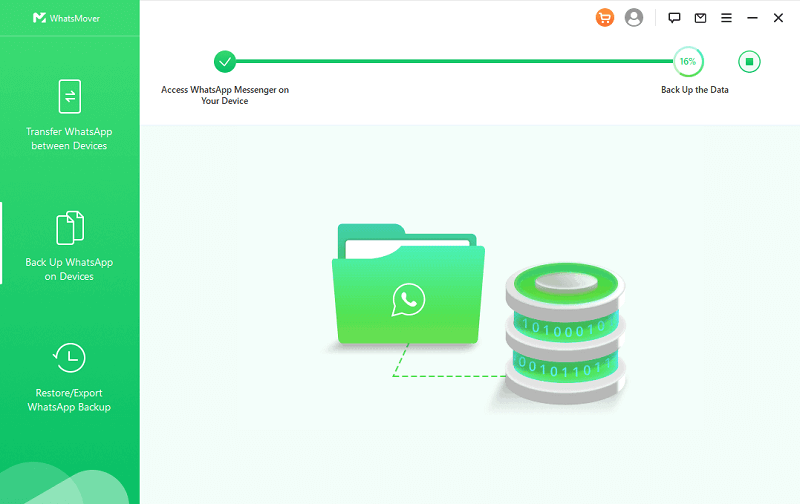 Step 3 When the process is over, your WhatsApp data is now securely backed up. All you need to do is make sure that you don't delete it by accident.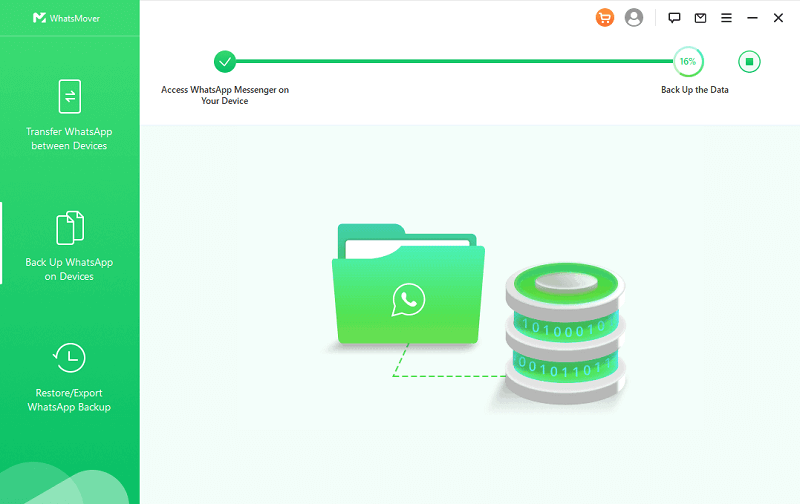 2.2 Use Email to Complete WhatsApp Videos Backup (Android & iPhone)
Another straightforward way to back up WhatsApp photos and videos on iPhone and Android device is with your email. This is a good option for people who only need to back up small amounts of data as email has very limited capabilities. To back up using email simply:
Open your device and load WhatsApp. Then go to the contact that you want to back up, so you can back up the entirety of that chat. For Android users, click the options Menu > More > Export Chat.
For iPhone users, tap on the contact name at the top of the screen and select the Export Chat option.

You will now get an option on if you want to select with media or without media. Since we are trying to export photos and videos as well, we will need to select ATTACH MEDIA
You will now be prompted with a list of options to choose from. Select the Mail option and type in the address you want to send it to.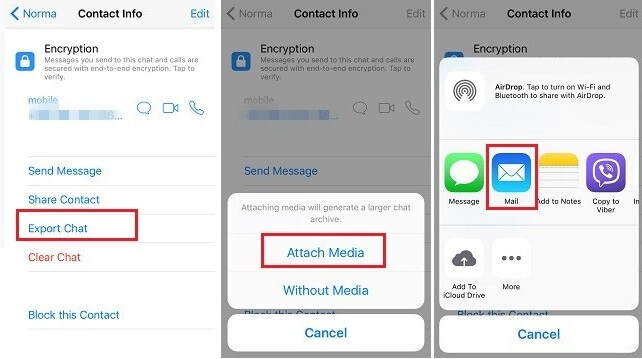 Cons
You can just export the messages of one chat at a time, so you need to repeat the operations if you want to export more chats.

There is a storage limitation: you can just export less than 40000 messages under WITHOUT MEDIA mode, and not more than 10000 messages under ATTACH MEDIA MODE.
2.3 Use Google Drive to Complete WhatsApp Videos Backup (Android Only)
The next alternative to back up WhatsApp videos/photos for Android users is using Google Drive. Google Drive is a lot more convenient because it can hold a greater amount of storage and is easily accessible anywhere. You can also easily share the backup with other devices.
How to back up WhatsApp photos and videos with Google Drive:
Open your Android phone and go to WhatsApp. Go to Settings > Chats > Chat backup.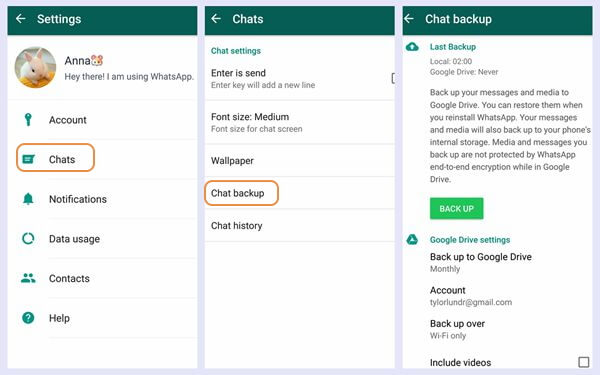 Click Back up to Google Drive. Select Only When I tap Back up so you don't accidentally want to start automatic backups.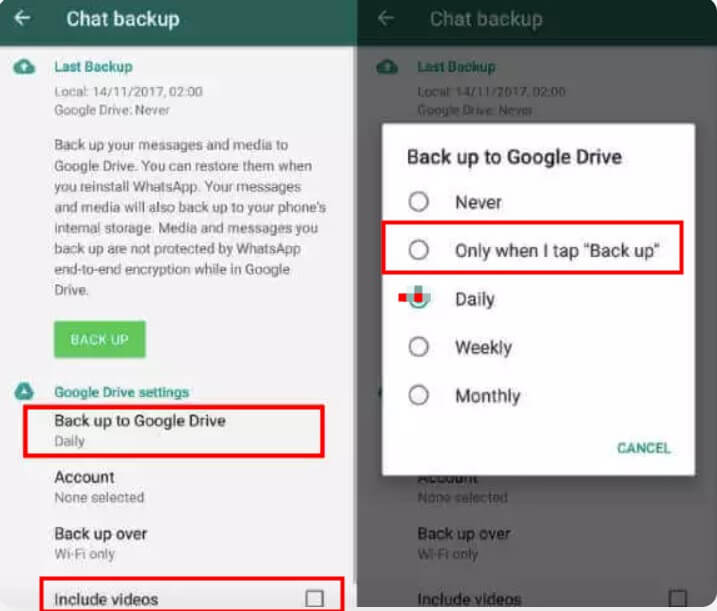 Turn on Include videos and click BACK UP icon to start the WhatsApp videos backup process.You can now open Google Drive to view the videos backup.
Note
You can also set up scheduled backups if you select something besides
Only When I tap Back up
, such as
Weekly
,
Monthly
2.4 Use SD Card to Complete WhatsApp Videos Backup (Android Only)
If you are still limited by the amount of storage you can store on Google Drive or through email, this option will be very good for you. It is also very similar to the other methods we described above.
Once you are in WhatsApp, head your way over to Menu > Settings > Chat > Chat Backup.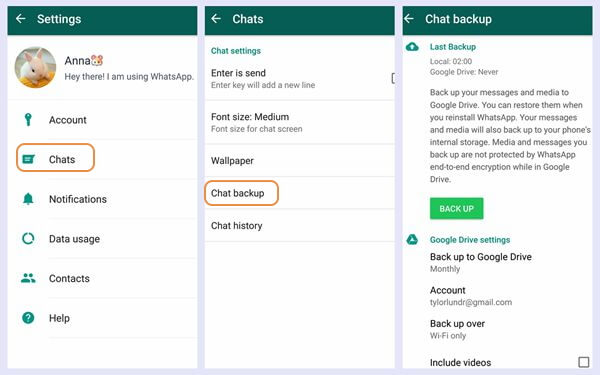 Here is where we will have to go around the normal ways of backing up. Click on Back up on Google Drive > Never so that the backup will skip Google Drive and instead going to your SD Card.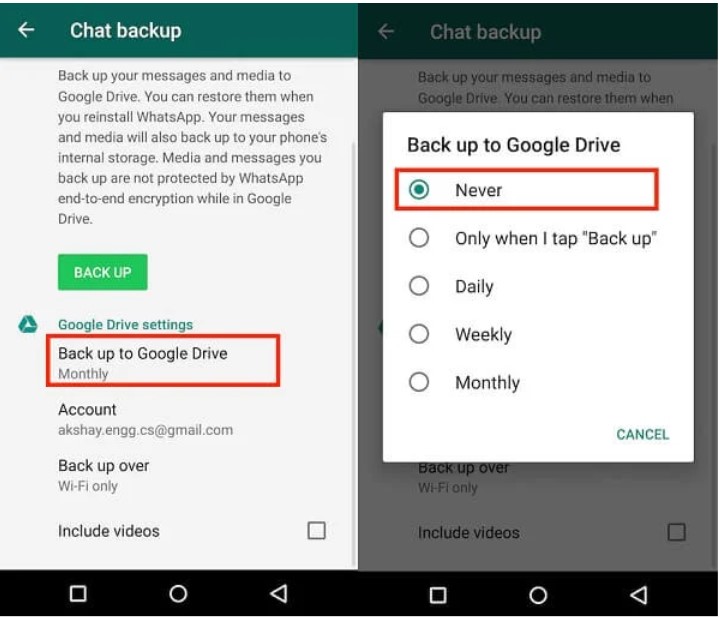 Now you can leave your SD Card in a safe area or use it to upload that data elsewhere.
2.5 Use iCloud to Complete WhatsApp Videos Backup (iPhone Only)
For iPhone users, iCloud is an official method to store WhatsApp data including videos. But you must make sure your iCloud has enough space to keep your WhatsApp videos backup so that the backup process can be operated smoothly.
Navigate to your WhatsApp app on your iPhone, click Settings icon and subsequently Chats button.
Turn on Include videos button, then hit Chat Backup and select Back Up Now to back up WhatsApp videos on iCloud.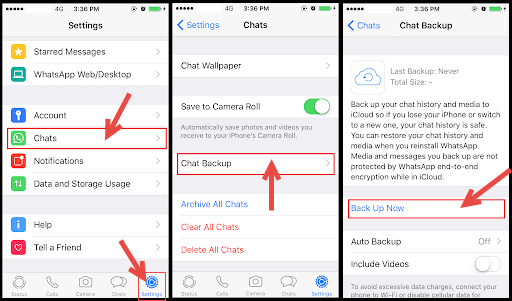 Cons
iCloud just has free 5G storage, you should pay for it if you need to back up WhatsApp videos with more than 5G cache.

The whole process must be under a stable environment, which will cost several hours.

You are not allowed to use your iPhone to do any other things during the WhatsApp video backup process.
2.6 Use iTunes to Complete WhatsApp Videos Backup (iPhone Only)
Using iTunes is also a good idea to back up WhatsApp videos for iPhone users if your iCloud don't have enough space and you don't want to spend your cents to purchase more storage.
Use a stable USB cable to connect your PC with your computer, then iTunes detect your iPhone automatically.
Click on the Devices tab and click on your iPhone name.
Select the Summary icon on the left plane. This will display the option to back up your WhatsApp video on iCloud or This Computer. Select This Computer to continue. Finally click Back Up Now option.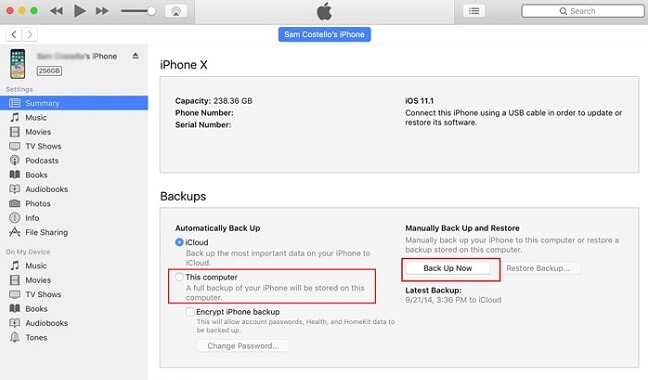 Cons
It requires you to back up all iPhone data, rather than just WhatsApp videos.

There are more complex steps, which takes time and lots of space.
These are the top 6 free methods to back up WhatsApp videos, it's pretty evident that the first method -- using WooTechy WhatsMover must be the easiest way to complete all your WhatsApp videoa backup. Just give it a try, which will never make you disappointed.
Bonus Tip: How to Export Only WhatsApp Photos and Videos to My Computer?
Unfortunately, there is no way to only select backup Photos and Videos on WhatsApp. However, what you can do is go through the backup that you created with WooTechy WhatsMover and select all of the photos and videos and send it to a separate file.
This will be very easy to do as media files are very large and most of your chat messages are only in a few files. What's more, with this tool, you can export as many as videos you want without any storage limitation, and all your WhatsApp video backup can be kept safely without any loss.
Step 1 Connect your phone to the computer and launch the WhatsMover tool. Once your device is recognized, select the Back Up WhatsApp on Devices option and start the backup of all your WhatsApp data including your WhatsApp videos.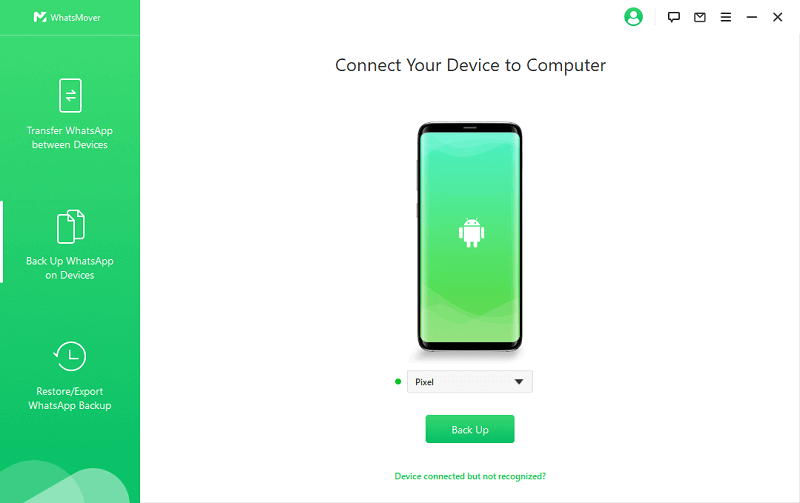 Step 2 After the backup is completed, select the Restore/Export WhatsApp Backup option, choose the recent backup, and then click on Export to Computer.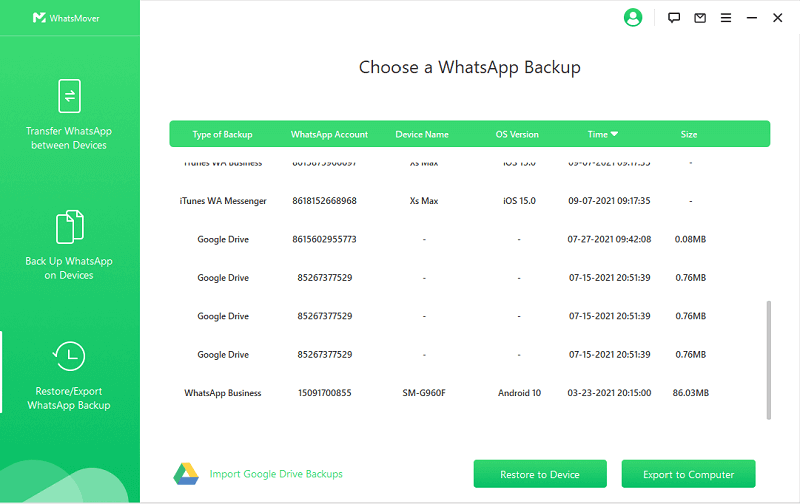 Step 3 You can preview the backup files and select videos file, finally click on the Export button.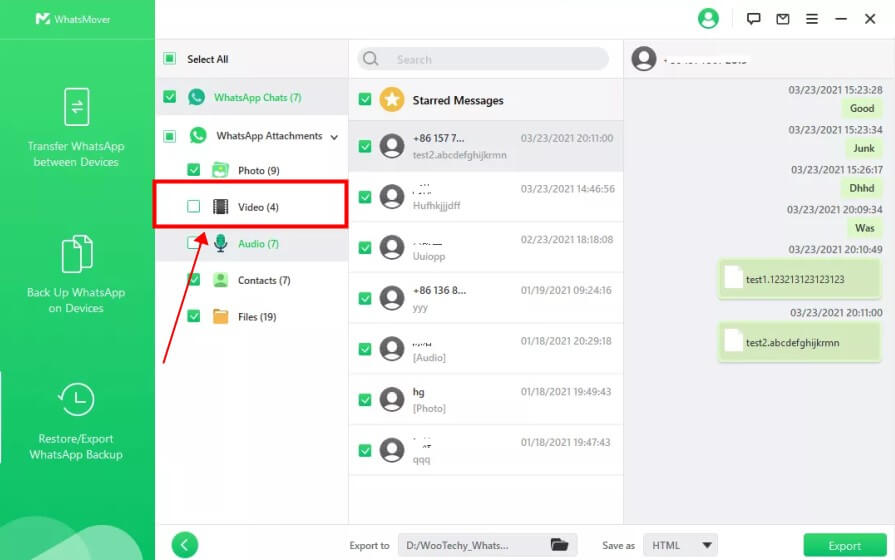 That's it! Wait for the export to get completed. Once that's done, a window with files will pop up, where are all your WhatsApp videos backup, just open and check them.
Conclusion
In this article, we showed you the 6 main free ways to back up WhatsApp photos/videos on your Android or iPhone device. We highly recommend that you should keep this amazing tool installed in case you need it to back up your WhatsApp data on day. Anyway, WooTechy WhatsMover is free to install and use for all WhatsApp users.
If you haven't already, click the Download Now button and you can freely install this tool and use it for all of your WhatsApp backup needs.