Almost a century has passed, but we can't forget the Disney character Mickey Mouse. Till now, only four people have featured Mickey Mouse's voice, and Walt Disney is one of them. What if you get your own voice in Mickey Mouse's tone? Maybe for making a funny video or stream.
It's possible to get Micky Mouse voice with a voice changer. There are 4 Mickey Mouse voice changers available online. You can just put in some text or voice message, and it will change your voice to Mickey Mouse within seconds. It seems magical, right? Let's see some of these AI voice generators in this article.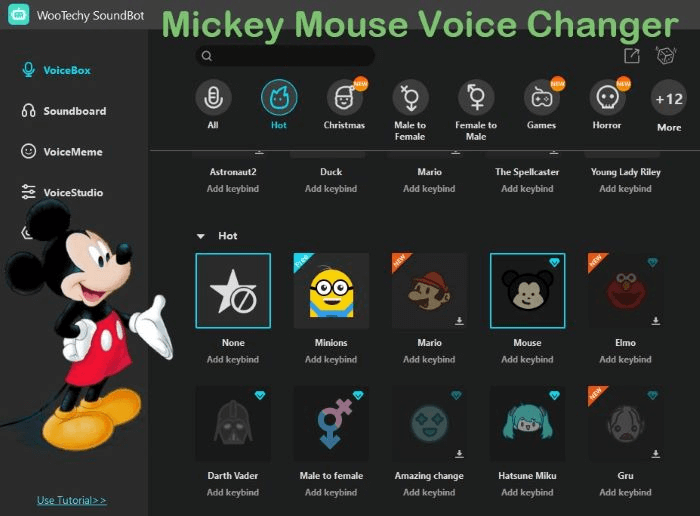 Part 1. Can You Change Your Voice to Mickey Mouse?
Mickey Mouse is a legendary character in the world of comics and cartoons. This is also the reasons why so many people are looking for change the voice to sound like Micky Mouse. Though it is almost 94 years since Mickey Mouse's appearance, we can't forget the magical voice and its acts. That's why most people want to mimic the voice. But can you actually turn your voice like Mickey Mouse?
Well, it's now possible because of the latest advanced software available on any computer. Various voice generators can easily change your voice to Mickey Mouse with just a single click. You can also use voice generators directly online without downloading the app. Therefore, you can talk or send messages in Mickey Mouse's voice with these generators.
Part 2. How Do I Mimic My Mickey Mouse Voice?
Well, you have learned that changing your voice to Mickey Mouse is possible. However, which software should you use for Mickey Mouse voice? The WooTechy SoundBot is a pretty good choice. SoundBot, developed by WooTechy technic teams, is a professional AI voice changer tool to change your voice to various sounds in real-time including Mickey Mouse.
SoundBot – Best Mickey Mouse Voice Changer on PC
75.000.000+
Downloads
200+ Voice Filters: Change your voice directly to Mickey Mouse and others like Mario, Minions, Elmo, etc.

Change Voice in Platforms: You can use SoundBot to change to Mickey Mouse voice in various programs and games such as Zoom, Discord, Skype, Fortnite, Valorant, PUBG and the like.

Vaious Scenarios Supported: You can change your voice to Mickey Mouse for various scenarios, for example, entertaining prank, live video, real-time communication.

600+ Sound Effects: You can use additional 400+ sound effects and 200+ voice memes to double up your Mickey Mouse voice changing.
Here's how you can mimic Mickey Mouse's voice through the SoundBot:
Step 1: Download The App
First of all, you need to download the WooTechy SoundBot. And then install it on your computer. Make sure you get the real one from the official site.
Step 2: Choose Input and Output Device
Open the soundbot app. You will see multiple options. But you must open the settings to select the input and output devices. Select your microphone as an input device and your earphone as an output device.
You will see the pop-up notification when the setup is complete. If you don't set up the input and output devices, you can't use the SoundBot.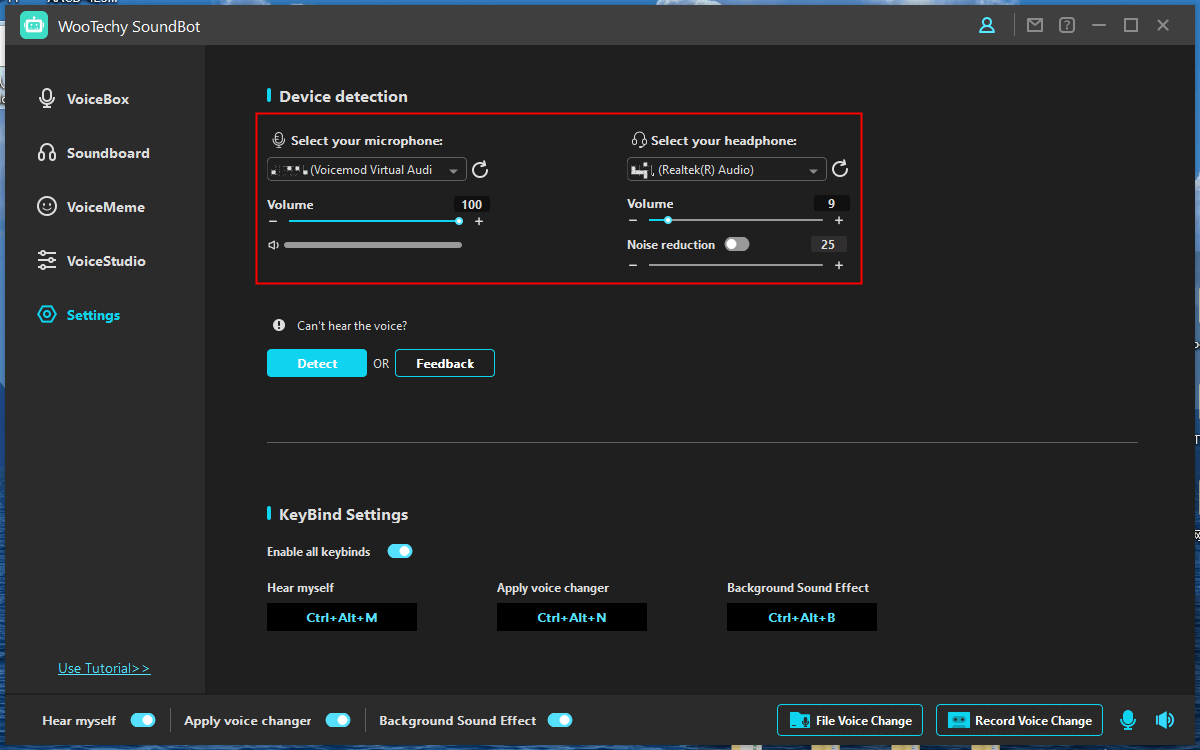 Step 3: Check the Effects
There are plenty of options to change your voice and give effects. Find the Mouse option from the VoiceBox tab and testify.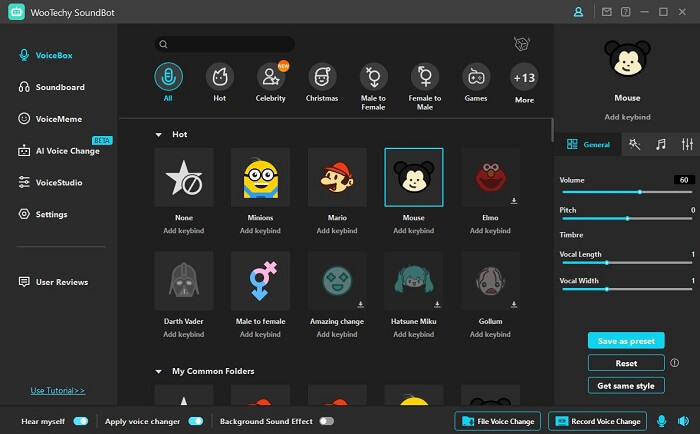 Step 4: Check in Different Platforms
You can use the SoundBot to change voice to Mickey Mouse on different platforms. All you need to do is just ensure SoundBot is running in the background and open the platform you want to change your voice. And then change its voice settings. Choose the Voice Changer Virtual Audio Device as your input device. After that, you can use the Mickey Mouse voice on any platform in real time.
Part 3. Other Mickey Mouse Voice Changers/Generators
Without the WooTechy Soundbot, you will find some other voice generators. However, we have reduced your hard work and selected some standard but valuable Mickey Mouse voice generators for you. Here are the details:
1. Scramby
Scramby is quite a simple voice generator. It has multiple features to add interesting effects to your voice. There are 80 different voices, and Mickey Mouse is one of them.
You can just install this Mickey Mouse voice changer pc and start to prank your friend. It has embedded voice patterns with a built-in audio editor. Even with a weak computer, it can do a great job.
However, you won't find any voice settings regarding frequencies or timbre. And it works only in real-time.
2. FakeYou
FakeYou is another online text-based Mickey voice changer. It creates artificial voices according to your preferences and text. The generator is famous for its voice conversion of Disney characters from games, movies, and Mickey Mouse.
It has many options to give effect on your speech and create fake voice messages for you. Pranking with friends will become easy and more realistic. The audio quality is pretty good; you can even download them from the website for future use.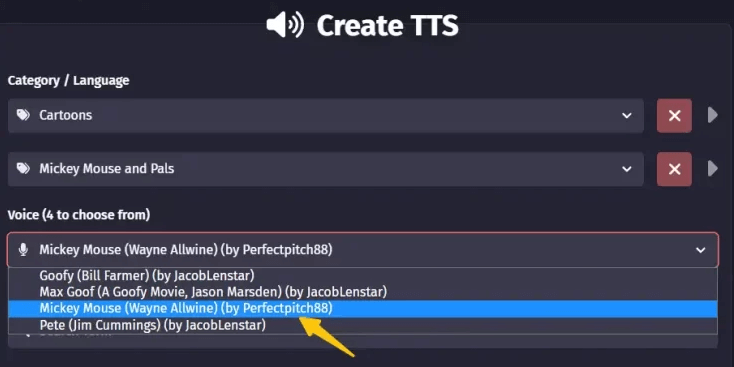 However, the generator can get slow sometimes. It's also not compatible with all types of browsers.
3. Uberduck
It's an online platform that can convert your text message into spoken words with different words. And it includes the Mickey Mouse voice. All you need to do is type the words and hit the button "speak."
It's pretty natural and entertaining at the same time. The website has a vast range of options and features. On top of that, each conversion is pretty efficient and accurate.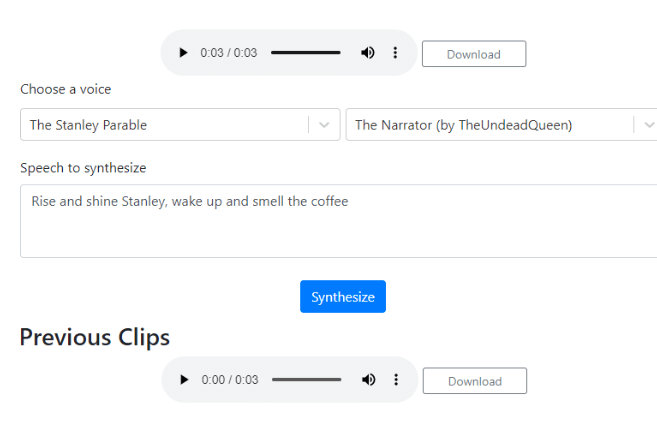 However, Uberduck might not be compatible with some browsers. In such cases, you might have to download additional software if you want the Mickey Mouse voice.
Conclusion
You will find several voice generators online, but WooTechy SoundBot is quite reliable and robust AI voice changing software. It's also compatible with the different platforms we usually use. Therefore, the SoundBot can become the Mickey Mouse voice changer you want and it ensures the sound quality.